Your LinkedIn "teaser" is the short header section which appears at the top of your profile on the site, and includes your picture, name, profession, location, industry and most recent status update.
It's known as the "teaser" because it's the only section of your LinkedIn profile which shows up when you appear in the platform's search results and when you contribute to a discussion in one of your LinkedIn groups. This is the equivalent of your first impression on the site, and it is so important to optimise this part of your profile to the fullest to encourage people to click through to your full profile and find out more about you.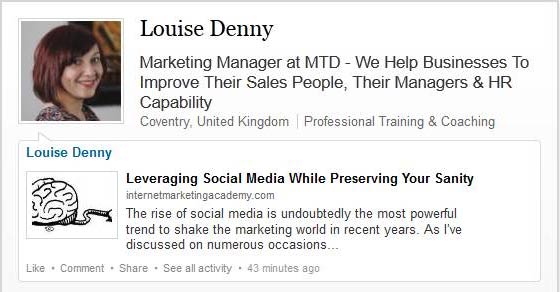 The basic rules of optimising your "teaser" for best results include using a professional image of yourself (no holiday snaps please!) and making sure the name you use is the one that you are referred to as within your professional environment – so no nicknames or abbreviations.
It's also important to include the most relevant industry and the local area of your company within your teaser so that people can who are searching for the products and services you provide in your local area can find you easily when they are searching online. But the really important factor lies within your professional headline.
Your professional headline should be a one line power house of a bio, which explains in good detail but in few words exactly what your company does, your role within the company and most importantly what you and your company can do for your prospects.
You need to choose the keywords that will trigger a response when a prospect is searching for somebody in your area of expertise and make sure you clearly explain to them how what you do will benefit them.
For example, my headline on LinkedIn could simply read "Marketing Manager at MTD Training", but although it does explain my role within my company, it doesn't explain what my company does or sell me as a professional within my industry.
So, I have optimised my LinkedIn headline to read "Marketing Manager at MTD – We Help Businesses To Improve Their Sales People, Their Managers & HR Capability" – as this clearly names my company, describes my role and explains what myself and my company can do for potential clients. Bingo!
Your "teaser" – and most importantly your headline – is critical because this is the first thing people will see when you show up in their search results or respond to their post in a group, so you need to fully optimise your teaser and polish up its appeal.  Not only will this help you make the right first impression but it will also encourage new connections to read your full profile and potentially choose to connect with you.
That's all for now folks, see you again soon for another Techy Tuesday.
Regards,
Louise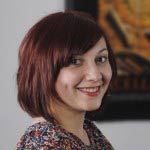 Louise Denny
Marketing Manager