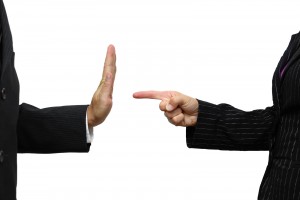 Many sales people ask us for that 'one thing', the idea that will solve all their problems and enable them to hit their goals every time.
The 'magic pill' if you like, that will make them their sales managers' dream machine.
Sorry, but there isn't just one thing that will make you successful.
But if there is one bit of advice that I can give you that will take your success further, it is this:
'Do things that unsuccessful salespeople don't'
Gee, thanks, that's really helpful!
Well, let me go one step further.
If you do what most salespeople do, you'll just get to first base.
By this, I mean you understand buyers' needs and you build solutions for them.
You may even listen to their needs and be on their wavelength.
You might connect with them and build some kind of relationship with them.
That, as I say, only gets you to first base.
It's what most salespeople do these days. It isn't enough.
To get to second and third base you need to do more.
Here's what the great salespeople do that the average don't:
They concentrate on the results they will help their prospects achieve
They inspire confidence by building trust
They reduce risk in using their solutions
They are proactive and take the initiative rather than wait for the prospect to ask for help
They are experts in the fields that are important to their prospects
They educate them with new ideas that add value to the relationship
They become an essential resource to their prospects and customers
They share the ownership of progressing the sale with the prospect
Do you notice what each one of these ideas entails?
Yes, it takes effort, guile and willingness to go further than others would go.
And that's sometimes the challenge; many salespeople don't want to do the hard work that makes selling easy.
Selling isn't hard, unless you're one of the unsuccessful ones.
Salespeople who complain about their lot should take a long, hard look at the bullets above, identify where they need to improve and work to make it happen.
Remember: the only place that success comes before work is in the dictionary!
Our Online Sales Training courses and Sales Management Training can help you to take your game on to the next level. Check out the details today.
Happy Selling!
Sean
Sean

Sean McPheat
Managing Director
MTD Sales Training | Image courtesy of Big Stock Photo