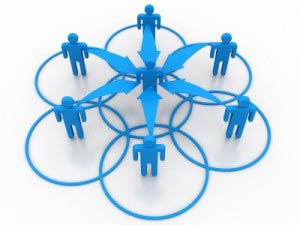 On my first day at work, I was given a list of people to call and a phone. I was told that the more people I called, the more success I would have.
Well, although it was a partly successful , I soon realised this was not the most effective way of getting sales! Simply having a list developed by people who would never actually have to call the people on it wasn't the best strategy ever devised.
Later in my career I learned that a salesperson has to realise he or she is running their own business, and that business (like every other) has to have a firm foundation laid in a plan that focuses on two main areas: The development of a solid sales pipeline built on a quality database, and a proactive prospecting plan.
Build a Quality Database
Take the time to research your prospect's business online prior to reaching out. Leverage social-media information that you can find on LinkedIn, Facebook and Twitter. While it is tempting to create as large a database as possible in the hope that high numbers will produce prospects, this is only partly true. Yes, you need lots of prospects, but if they are not a great fit, they will only dilute your focus on the best opportunities.
Linkedin will help you find the right people to contact. Remember, it's a database for your prospects and doesn't replace the skills you need to sell effectively. It will, though, give you a list of people who are connected to you in more ways than you will imagine.
Think about whether or not your prospect looks like your ideal customer. Do they look like the last several closed deals? Build a database in your CRM consisting of quality prospects that you know are a fit for your products or services, and be honest about deleting and adding to it every day. This is the pool from which you will find prospects to fuel your pipeline.
Develop a Sales Strategy
Now you are ready to create a well-planned, consistent, proactive, outbound plan to ensure success.
Think of your prospects as a network of professionals to whom you can offer help. Reach out to them with a phone call, a Linkedin message or an email, and if you don't catch them directly, leave a voicemail followed up by an email introducing yourself and your company. Explain to them why you believe they should take a few minutes to speak with you. You might try a message like this:
"Hi Mr/Mrs. Prospect, my name is Jo Seller, calling from Acme Sales. We specialise in developing companies like yours to achieve their goals in new markets. After researching your company, I have some ideas that will help you increase your potential market size. I would be happy to share some of what we have been seeing in the market and determine if we might be able to help you. Do you have five to ten minutes to connect over the phone this week or next?"
Give them a compelling reason to speak with you, not an airy-fairy marketing pitch. These people get calls every day, and if you don't sound like someone who can add value, they will not take the time to speak with you. You have to stand out, and if you don't, then you're just like all the rest.
Always fine-tune your message for each industry segment and job function. Don't use one boilerplate message on every call. Customise, personalise, individualise, and optimise your calls. Engage interested prospects, and remove those who are not ready to buy, but always keep in mind that it is your job to add value on every call. Don't be afraid to drop prospects if they don't help you to achieve your goals
The Result?
Build your database, especially through social media, reach out to your prospect base consistently with a value-add message, set a goal to complete an good amount of quality conversations per day as appropriate for your business, and hit that conversation goal every day. Completing your plan will turn your target-rich pipeline into sales and commission.
Before I sign off, here are some more tips on becoming a great sales person:

Happy Selling!
Sean

Sean McPheat
Managing Director
MTD Sales Training | Image courtesy of Sheela Mohan at FreeDigitalPhotos.net