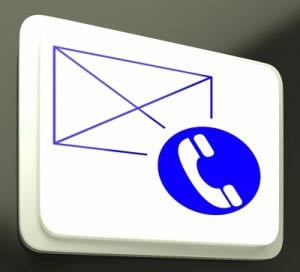 We just love those conversations where you hear the customer say 'You know…I think such-and-such would benefit from this as well!'
That is like honey dripping from their tongue and you should grab that opportunity to ask about the person they are referring to you and make anote of their contact details. But how should you approach them? Jumping in and saying Mr X said you'd be interested might put too much pressure on them, and cause them to resist. So what's the best way to handle this?
Imagine you call the referral and their secretary or gatekeeper answers.
You hear "Hallo, Mr Prospect's office…can I help you?"
You "Good morning, erm, yes, my name's Sean McPheat from MTD. John Smith, a mutual friend of Mr Prospect and mine, asked me to give him a call, and I promised that I would"
This creates a subliminal level of importance about the call in the other person's mind.
You'll probably get one of three responses:
Gatekeeper: "Sorry, He isn't in"
You reply "Oh, OK, I'm sorry I can't talk to him. Do you have his schedule, so I can talk directly to him?
Getting time frames and firm appointments with the gatekeeper is powerful in this situation. remember…you have a referral…it's not a cold call.
or
Gatekeeper "Sorry, Mr Prospect's not available. Would you like to leave a message?"
You reply "How would you recommend I do that? Would it be better to leave a voicemail or should I leave a message with you?"
or
Gatekeeper "Mr Prospect wants to know what it's about"
You reply "Well, we've provided some very valuable services to John Smith, and he felt very strongly that I should talk to Mr Prospect"
You may be able to get through at this point, or they may ask you to send materials. Do so, and try to set a firm time to follow up and discuss opportunities with Mr Prospect.
When you get through, you can continue with something like…
"Hi, Mr Prospect, Sean McPheat here from MTD. John Smith asked me to give you a call and I promised that I would"
Remember, your sole goal is to make an appointment, and the referral source is a powerful way to get the attention of the prospect. If the prospect has no time now, ascertain if you can make your call at a more convenient time. If they have time, tell them your direct value statement and then ask for an appointment.
This is a powerful way to get hold of prospects. By emphasising the 'asked' and 'promised' in the conversation, you give yourself and the prospect the reason for the call and it creates greater rapport right from the start of the call.
Utilise the leverage that referrals give you, and you stand a greater chance of getting in front of the prospect.
Happy Selling!
Sean

Sean McPheat
Managing Director
MTD Sales Training | Image courtesy of Stuart Miles at FreeDigitalPhotos.net