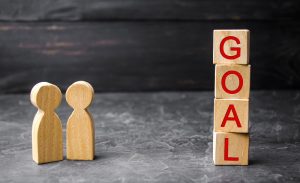 We're always told to think big, aim high and challenge ourselves.
It can give us motivation and drive to go where we might not have thought we could and achieve things we might not have thought possible.
How can we give ourselves that massive push to go for something that would inspire us to tap into our potential?
One way is by setting ourselves a BHAG! (Pronounced Bee-Hag)
A BHAG is a big, hairy, audacious goal, originally coined by Jim Collins in his great HBR article 'Building your Company's Vision'.
We prefer to be a little bit contentious and call it a big, hairy a**** goal, as it sound more belligerent!
What's so special about a BHAG?
Collins describes it as a long-term, compelling goal that stretches you to achieve greatness. It should be challenging, daunting even, one that you may not know how it will be achieved with your current resources or knowledge.
It can create energy and momentum and shine a light on how the future might be if you achieved it.
It creates passion and inspiration in your soul and makes you stay up late and get up early to continue the journey.
Here are some company BHAGs that will set the scene for how you can make it more personal:
Heinz: To be the world's premier food company, offering nutritious, superior tasting foods to people everywhere.
Pershing General Hospital: To become the provider of first choice for our community by being a leader in rural healthcare and offering innovative technologically advanced services.
Recording for the Blind and Dyslexic: For all people to have equal access to the printed word.
McDonald's: To be the world's best quick service restaurant experience. Being the best means providing outstanding quality, service, cleanliness, and value, so that we make every customer in every restaurant smile.
Amazon: Our vision is to be earth's most customer centric company; to build a place where people can come to find and discover anything they might want to buy online
Those company BHAGs inspire their people to be at their best, as they enthuse and stimulate their people to achieve more than they would with a more common vision or mission.
How can this be applied to us as individuals in the sales world?
Chris Cosper of Rhythm Systems says there are three points you need to think about before setting out your BHAG:
1) What can you be best at? Imagine setting all your energies and focus on that one thing. That lever can change the world!
2) What drives your economic engines? How can you make more money in the future than you are now? What will I have to do to make the biggest impact on my results, both monetarily and intellectually?
3) What are you deeply passionate about? You need to be fully committed and engaged in achieving it. You need to be driven and motivated so far that it becomes an obsession for you.
If you feel that a BHAG would be too difficult for you, or you can't commit the time and the energy to achieving it, then don't start, because you'll fall short immediately.
But if you feel a BHAG will drive you towards your passions and help you achieve more than you ever thought possible, then read on!
How to set your BHAG
How will you know your big, hairy a**** goal is a great one to aim for?
It should be easy and clear in its wording
It should serve as a focal point for all your efforts
It should unify all your concentration
It should guide your daily motivations
It should be aligned with your passions
It should be engaging, motivational and measurable
It should take you to a successful and fruitful future
Answer these questions to start on your quest for setting up your BHAGs:
What would I like to accomplish?
What would be my ultimate success picture?
What will I look and feel like when I have achieved it?
How will others benefit when I achieve it?
How can my BHAG(s) align with my passion?
Are they exciting me as I read them?
Is it clear to me what I will have achieved when I get there?
Am I fully committed to achieving it?
What will I become as a person when I achieve it?
As soon as you have all your ducks lined up, you can start brainstorming key words that will eventually be connected to compelling, absorbing and dynamic phrases that will give you the impetus to set off on the journey
Key words to kick you off could include:
To become…
To achieve…
To be…
To realise…
To succeed in…
To reach….
To build…
To create…
To find…
To have…
They need to be persuasive, gripping, enthralling and exciting enough to drive you forward and become your main goal in business life.
But remember one thing:  achieving your BHAG should help you, not only ACHIEVE your goals and objectives, but also BECOME the person you always knew you could.
It's no good being the richest person in the grave…you must always remember the overall purpose is to make your life and everyone else your life touches become better in some measurable way.
Happy Selling!
Sean

Sean McPheat
Managing Director
MTD Sales Training | Image courtesy of Big Stock Photo