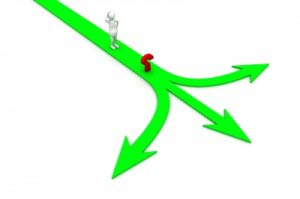 In Part One and Part Two of this series, we identified two criteria buyers use to make decisions. Here, we discuss a third.
First, a recap:
People's decision-making criteria will always give away a lot of information, as they help you understand their beliefs, values and behaviours.
Buyers make decisions based on a series of criteria that makes sense to them. So if you can identify their view, you can determine how best to help them buy your solutions.
One criteria they use is known as 'matching' and mis-matching'. This is an interesting process, as it tells you a lot about how prospects weigh up the options that face them every day.
By 'matching', we are referring to how someone notices similar things and how they 'match' together. 'Mis-matching' refers to how they see things differently and what those differences are.
Basically, people have two ways of seeing external information. If they sort for similarities, they see what is matching. If they sort for differences, they seek mismatches.If they match, they may listen out for what you say and see how other things they know correspond to that. You'll hear them say, 'Oh, that's like….' or 'Yes, that's similar to….'. They focus on what works and what's been achieved. They tend to look for consensus and what brings things together. They are good at building rapport with others because they are adept at seeing what matches up and what doesn't.
When people mismatch, they look out for what is missing or what's wrong with something. They concentrate on why things might not work and may come across as negative, whereas they could be very creative thinkers.They'll challenge the status quo in every situation.
With matchers, emphasise what is current, right, the same. If they are using a competitor's product, point out what is similar in terms of results they will get. Look for sameness that can be improved upon. Keep the security with the prospect by discussing what will the same but better.
With mismatchers, they'll be more interested in what is better or different from the current situation. Discuss how your product will create different results, highlighting those aspects that don't match up with what they currently experience.
By determining what drives this specific prospect to decide, you can discuss further how the product choice you are offering will either give them more of what they are familiar with, or more differences away from what they currently experience.
In Part Four, we look at strategies buyers use to convince themselves they have made the right decision.
Happy Selling!
Sean

Sean McPheat
Managing Director
MTD Sales Training | Image courtesy of Renjith Krishnan at FreeDigitalPhotos.net