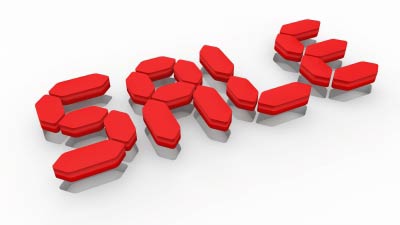 My experience tells me that your pipeline is probably full of dead wood! It's full of those who you've called and emailed but whom never respond to anything; it's full of those who have said "it's on hold" because their company is merging with another and it's full of those who still haven't got buy-in internally from the real decision maker.
I could go on!
But, being an optimistic sales person you want to leave them on your list "just in-case"
Come on, you have got to get real and be honest with yourself and remove them from your pipeline.
You've got to stop kidding yourself and you've got to understand what the true value of your pipeline is so you can take the right action and fill it with qualified prospects and leads.
I remember being called in to do some sales consultancy for a firm that sells software.
"We've got 20 sales people and a full pipeline but no deals are closing" said the Sales Director
I took one look at their pipeline and worked out that a staggering 65% of the leads across 20 sales people were what I classed as dead wood prospects – they had about as much chance of closing as me growing hair!
The team got honest with themselves and had a massive cull and they then channelled their energies on the prospects that had a chance of closing and they spent time on filling their pipeline with qualified leads – time that otherwise would have been spent on follow up with the dead wood!
So my message to you is to get real with yourself about your pipeline.
Take a long hard look at it and be honest – otherwise the time you spend following up on "zero chance of closing" prospects will damage your sales figures when you could have been spent that time filling your pipeline with new prospects that you've got a chance of closing.
5 Warning Signs Your Sales Opportunity Won't Close
If you experience any of these warning signs, don't delude yourself into thinking they'll close. If the sales process does get stalled out and you leave it in your pipeline, the only person who loses is you.
1. Not sure when they'll change: If they're hemming and hawing about when they'll change, they're not a prospect right now.
2. Shift in Priorities: If they tell you other, more urgent priorities have emerged, they're not going to be buying in the near future.
3. Boss Isn't Sold: If they tell you that the boss isn't sold, it's not likely you'll get a signed contract anytime soon.
4. Unresponsive: If they don't respond to your calls or emails, take them off your prospect list right now.
5. Interested but expecting delays: You'll want to keep in touch if they are still very interested but projecting significant delays – but don't count on them.
Learning to let go is an invaluable skill in this business. It keeps you realistic about the opportunities (or lack of them) in front of you. It frees up mental energy to pursue new prospects that you have a better chance of winning. It keeps you agile.
Happy Selling!
Sean

Sean McPheat
Managing Director
MTD Sales Training | Image courtesy of ArtJSan at FreeDigitalPhotos.net