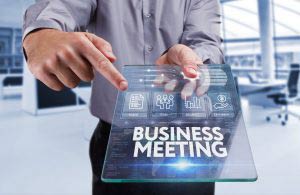 I had an interesting experience this week.
A company called us to introduce a new CRM system that they had developed and made an appointment to come and see us at the office. The salesperson arrived on time, looking very professional and very official.
Now, you know me through my tips and blogs, and you must know how I like to be sold to. This salesperson didn't, and he started by talking about his product and how wonderful it was, without even asking me a single question, except what we used at the moment.
But the main reason it was so interesting was the fact he had prepared his presentation on his new iPad.
Having one myself, I wondered how he was going to use it to sell his product.
Well, he started it up. All fine so far. Then he spent about five minutes trying to find the file he wanted. It wasn't there. So he dived into his briefcase and brought his laptop out. The battery was dead.
You can imagine how flustered he was. He spent the next few minutes nervously describing what the system would do and explaining how good it was. He offered to return later that afternoon with the correct demonstration materials, but by then I'd lost interest. Not because he couldn't back up all his claims, but because he came across simply as unprofessional.
Technology is a great asset to salespeople and can make your products come alive so clearly. We use technology every day in our presentations, and they can be mightily impressive. But when it goes wrong or lets you down, it can make a complete idiot of you.
The morale? Check, check and check again before you present your solution using technology. Make sure your battery is fully charged if you're using your laptop. Make sure you can find that file before presenting it.
And make sure your technology adds to your offering, rather than making a fool of you.
Happy Selling!
Sean

Sean McPheat
Managing Director
MTD Sales Training | Image courtesy of Big Stock Photo