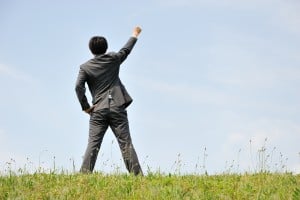 We often see people who are new in sales on our programmes, some of whom having even started selling yet.
They ask my trainers how they can quickly get up to speed and get results.
We offer some suggestions and recommendations, but essentially it's the individual themselves who are in charge of how they develop.
My top trainers have given me their advice on how new salespeople can increase their value to clients in double-quick time.
1. Become Insanely Curious About How Customers Measure Success
Too often, new salespeople put the emphasis on product knowledge and service deliverables. But most customers aren't really interested in the products and services – they're more concerned about the results you can provide for them.
So, becoming deeply curious about how companies measure success will encourage new salespeople to approach prospects with a suite of quality questions that will get them concentrating on what's needed to improve results. That mindset will always deliver because customers want to talk about their business.
2. Develop Active Listening Skills
Two ears and one mouth, used in that ratio, will always support the building of knowledge. As the saying goes, 'You never learn anything when you're talking; you only learn when you're actively listening.'
It's true. By listening attentively and intently to what others are saying, you increase your awareness of what the client wants and needs. It stops you from jumping ahead and making assumptions about what is required.
3. Follow Quality Thought-Leaders
Learning from the masters will be something that keeps new salespeople in good stead for a long time. For example, LinkedIn Pulse has many leaders and captains of industry who offer excellent advice freely and openly. By reading how these well-respected leaders are changing businesses and making their presence felt in many areas, new salespeople get to see perspectives they wouldn't be exposed to if they just rely on their own knowledge and experience.
4. Learn From Every Opportunity
The great salespeople always treat triumph and disaster in exactly the same way; as learning opportunities.
If things don't go according to plan, new salespeople need to analyse what went right so it can be repeated, and what went wrong so it can be learned from.
By learning lessons, you realise what needs to change, how things need to be improved and where changes can assist in their learning and development. Having the mind open enough to accept learning opportunities will always create new viewpoints so improvements can be assimilated and enjoyed.
5. Organise For Results Not Activities
This is a good tip, as it helps new salespeople to concentrate on achievements so they can see what activities work effectively, rather than the other way round.
Organisation includes things like professional prospecting systems being in place, managing account activity in a way that drives results, and planning their field time in such a way that encourages efficiencies along with effectiveness.
By organising with results in mind, new salespeople will start to see what works and what doesn't, allowing them to choose specifically what they should spend their valuable time on.
If you're new to sales, click here to find out more about our open courses!
Happy Selling!
Sean

Sean McPheat
Managing Director
MTD Sales Training | Image courtesy of Dollarphotoclub