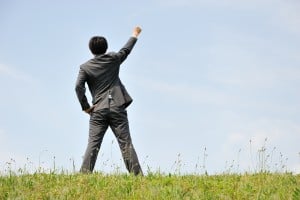 We often see the successful salesperson and put it down to being in the right place at the right time, getting the breaks or simply being 'lucky'.
When successful people are analysed, though, we see that, although there may be streaks of luck involved in their successful results, by far the majority of the results they achieve come from doing the right things at the right time in the right way with the right people.
Success isn't a matter of lady luck shining on us; success comes down to the strategies we employ and the ability to make things work when it seems easier to give up.
Here are some ideas that will help you be an exceptionally successful salesperson.
Have a planned purpose for every day
Many salespeople have to-do lists and calendarised visits, but here I'm talking about having meaningful plans for every day, so that the purpose for that day is one of results-orientation, not action-orientation.
Just having actions to carry out doesn't guarantee anything.
What makes one successful is having a real purpose behind everything you do and looking at achieving results.
Tons of action with no results is a waste of time.
Stretch yourself to achieve goals
Many people when they hit resistance give in or blame the resistance for their failures.
Successful people stretch themselves to achieve their goals even though they may be out of their comfort zones.
Remember, a muscle only grows when it is put under pressure and stretched beyond comfort.
You will never achieve success by staying in your comfort area.
Link up with people who are better than you
The saying goes that you only learn when you listen, not speak.
Listening to smart people who have been there and done that gives you opportunities to learn and benefit from these successful people's experience.
There are so many books, podcasts, videos, websites and DVDs that you can learn from.
Be sensible in who you choose to listen to and your successful journey can be accelerated immeasurably.
Be resilient in your approach
This doesn't mean being stubborn, but does mean approaching every situation from an angle of 'How do I get over this obstacle?'
When you are resilient, you achieve more self-will and build your self-esteem.
One definition is 'an individual's ability to properly adapt to stress and adversity'.
Nothing will be perfect in life, but as Tony Robbins says, it's not what happens to you that is important; it's your response to it that makes you grow.
Always look for opportunities to grow
When you experience opportunities to grow and accept them as part of life's journey, you create abilities that would normally be left by the wayside.
Seeing the choices you have and then taking the right ones has always been top of the list for successful people.
If you are able to learn and grow from every experience you encounter, you encourage yourself and others to look out for those opportunities that would defeat less resilient people.
Of course these aren't the only areas that successful people display; there are many other things that exceptionally successful people do, but I've found that these mentioned above are among the top skills that people who desire to be successful continuously and consistently carry out.
Happy selling!
Sean

Sean McPheat
Managing Director
MTD Sales Training | Image courtesy of Big Stock Photo