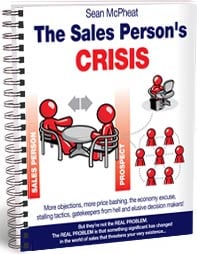 During the past 12 months I've been completing a special research project and have been interviewing hundreds of buyers and sales people from all over the world. I've been analysing trends, data, the latest technology – you name it!
I wanted to see with my own eyes as to what was going on in the world of sales. Not just the downturn, but I wanted to analyse the very latest buying habits and how buyers will make their purchasing decisions in the future.
As a sales person you need to know these!
If you don't, it will threaten your very existence!
So click on the link below to download my latest F R E E special report:
"The Sales Person's Crisis"
https://www.mtdsalestraining.com/crisis
What contains within the report will not only give you that competitive edge now but it will also give you the heads up as to what will be happening in the world of sales in the future.
Here's the link again:
https://www.mtdsalestraining.com/crisis
To your continued success
Sean

Sean McPheat
Managing Director