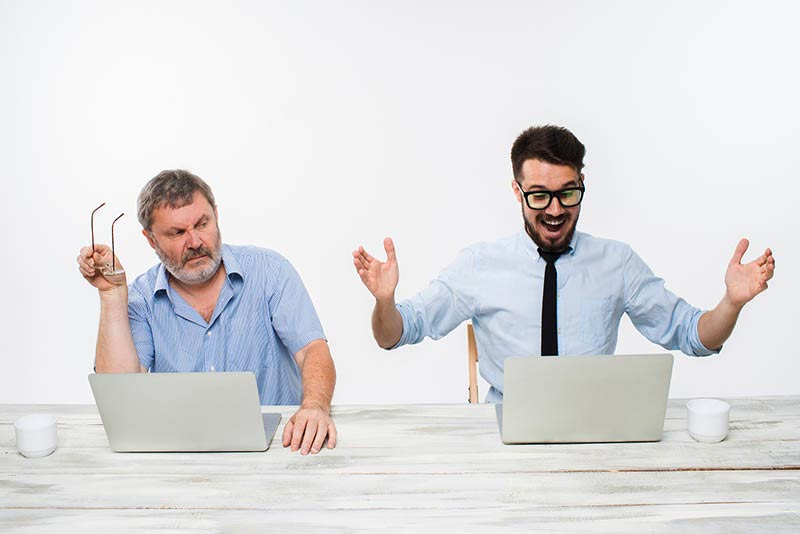 A typical sales day!
Scene: Sales Person just getting out of bed
The good vibe is on the right shoulder, the bad vibe is on the left shoulder
Good vibe: It's going to be a great day today!
Bad vibe: No it won't! It will be just like every other day….boring. No closes, loads of 'no thanks'. What's the point?
Sales person gets dressed, has breakfast and goes out to the car
Good vibe: I just need to prospect well, get my motivation going, concentrate, focus, loads of great calls coming up. It's going to be a great day of opportunities!
Bad vibe: O, what's the point? No-one buys these days in this economy. The competition is cheaper than me. We don't have a USP. Quality is poor. Why do I bother?
Sales person get to the office
Good vibe: If I get it right today, and I will, I can get really close to my target for the month. Can't wait to make plans for that first call!
Bad vibe: It's just a waste of time and energy! It saps morale and makes you feel bad. Don't bother today. Just pretend you're not well, and skip it. You can always make it up tomorrow
Good vibe: Right, loads of prospects out there. I just have to hit the hot buttons and make them aware of how great it would be to have a relationship with our company
Bad vibe: Who are you kidding! No matter how much you try, you always get knocked back!
Sales person picks up the phone
Good vibe: Right, I've planned for this call, made my introductions and they will want to hear from me. Proper planning prevents poor performance!
Bad vibe: That's it, put the phone down. They'll be busy anyway. No-one wants to speak to salespeople on the phone!
Good vibe: That's it. Plan. Think it through. Think of this as a partnership. Build the relationship. I'm not selling; I'm helping the customer buy.
Bad vibe: Rubbish! If you want to hit your target, you've got to make as many calls as you can. The more calls, the more closes you make.
Sales person visits prospects
Good vibe: Right, make sure you ask the right questions. Show interest in his business. Find out what his business really needs
Bad vibe: No, just go for the close. Don't waste time on all that other stuff. All he wants to hear is the product details and the cost. Don't mess about.
Customer comes up with objection
Good vibe: That's ok, uncover the reason for the objection, just go over the benefits again, and adjust if I need to
Bad vibe: O, here we go…just offer him a larger discount..they all buy on price anyway…he'll soon take it
Customer ends up taking the offer
Good vibe: You see…when you spend time doing things right, the results naturally follow
Bad vibe: Well, you got lucky that one time
Sales person back at the office
Good vibe: Well done…if you build the relationship with the client, treat him like a partner, ask business-relationship questions, convince him in the style he needs, you will hit your targets!
Bad vibe: mmmm…maybe I need to think it through more
Remember, you choose your attitude……so what's it going to be today?
Happy Selling
Sean

Sean McPheat
Managing Director