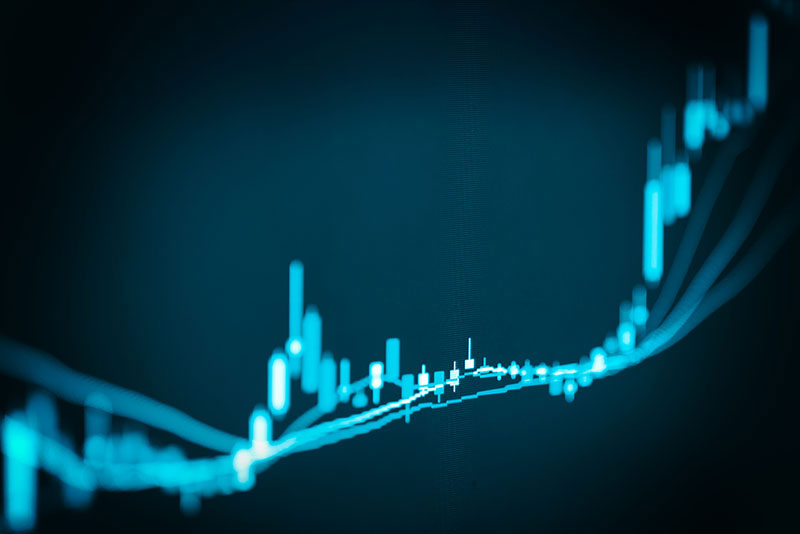 As you probably know by now, I'm all for making your role a lot easier in terms of saving you time so it frees you up to sell more!
🙂
Well, I don't know whether you are aware of this but there is a neat little tool called AutoText in outlook that could save you a shed load of time and at the same time provide you with some consistency in the way that you write and respond to emails.
It's called Autotext on older versions of office. For those of you who are bang up to date with their Office versions it's called Quick Parts.
Now if you find yourself typing the same old email messages when responding to prospect and client enquiries then the AutoText function could be your saviour!
AutoText/Quick Parts is to your opening or closing paragraph (or any piece of text come to that) as your email signature file is to your company address, telephone number.
With the click of the mouse you can instantly insert some pre-written text into your emails without opening any other emails or copying and pasting from a word document or template.
Ok, enough of my ramblings. Here's how to use the tool.
Now you might have different versions of Outlook and the screens may look different but you'll get the gist of what I am about to cover.
So you've got some text that you would like to use at the beginning of each email when you respond to an enquiry.
Here's what you do to set it up and then I'll tell you how to use it in your emails.
THE SET UP
Highlight the text you would like to use: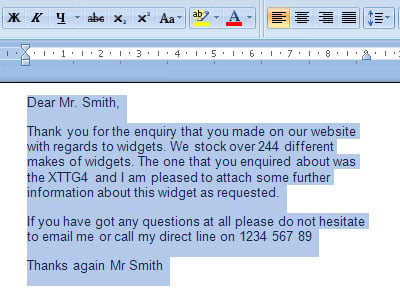 Now if you are using an older version of Outlook you need to click on AUTOTEXT and then select NEW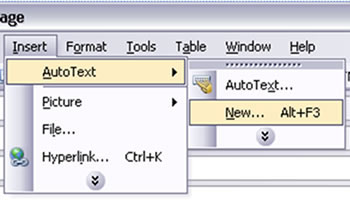 Then, enter a name that you would like to call this piece of text. In the example below I have called it XTTG4 Reply so you know what it relates to: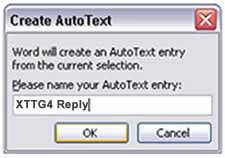 If you're using Quick Parts. Open up a new email. Click on Insert and then Quick Parts and then it's basically the same from hereon in.
HOW TO INSERT THE TEXT YOU HAVE JUST SET UP
Ok, so when you go to write a reply in the future you can call up your AutoText in two ways.
Firstly, if you just start to type what you called it i.e XTTG4 Reply and a box will appear above the text. Just click enter and WHAMMO! all of the text will appear!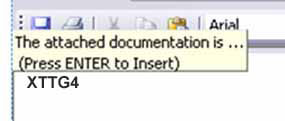 An alternative way is to select AutoText from the menu bar and then click on AutoText and then select the name of the text you want to insert.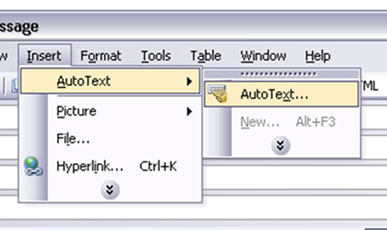 Job Done!
So add this to your Sales Training arsenal!
Now if you've got a newer version of Outlook the function you need is called QUICK PARTS and you get to that from the INSERT tab on the menu bar after having opened a new email to write.
It's a really useful tool to use. Personally I've got about 20 different messages set up and it saves me a ton of time and makes sure I send an optimised email reply that will give me the best chance of success.
Happy AutoTexting!!!!
Sean

Sean McPheat
Managing Director