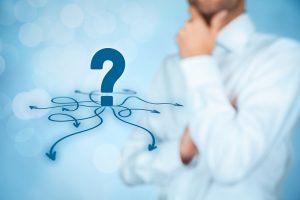 Have you ever bought someone a Birthday or Christmas present and then found that they had taken it back to the shop for an exchange?
Or have you ever described a haircut style that you wanted and the hairdresser styled it in such a way that you didn't want to be seen in public for a month?
Have you ever suggested a solution to a prospect, only to find that that they said that's exactly what they're NOT looking for?
All these examples show how hard it can be at times to create a 'future picture' of events that everyone can agree on. A sale can only be made when there is agreement on what the solution looks like. In other words, a sale takes place when the prospect and salesperson share a common 'future picture' of what the solution will look like, and your product or service helps them to achieve that 'future picture'.
One way you can determine what that picture looks like is by painting the picture as it is now and identifying the changes that have to be made in order to paint the picture as it needs to be in the future.
The best way to do this is by asking quality questions. Imagine you're selling cars and the prospect says, 'I'm just looking around, but I'm not sure if I'm ready to buy another car yet.'
Some salespeople would immediately start showing some of the stock they have and presenting solutions, maybe to problems that don't exist in the prospect's mind.
The best way to approach this is to create a need for that change in the prospect's mind. Questions like, 'What is prompting you to look around? What would make you actually think about changing your car? If you were to change, what kind of things would you want on the new car that you don't enjoy now? How would you know that you've made the right decision when you changed?'
All these questions look at the current situation, and drive (excuse the pun!) the prospect to think about a future position they may see themselves in.
Only when you have created enough pain associated with the current picture will they want to move away from that pain towards a different future picture.
On the other hand, a prospect might not be experience pain with the current situation. It's only when the future picture is painted in such a way that they see rewards or opportunities that they can't obtain with the current picture that they will make the necessary steps to change. In other words, they now associate pain with their current comfortable position, pain that didn't exist before they saw the new possible bright future picture!
By helping your client paint that future picture for themselves, you open the way for your products and services helping them to realise that future and draw them towards it.
Happy Selling!
Sean

Sean McPheat
Managing Director
MTD Sales Training | Image courtesy of Big Stock Photo