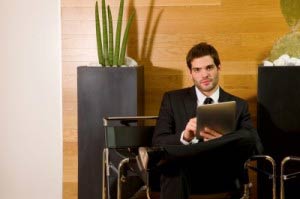 So, you've done all the hard work in preparing for the visit to your prospect. You've got all the materials you need, the traffic's been ok and you've arrived on time. You ask for the prospect at reception and you're told that you will be collected in a few minutes.
What can you do during this phase while you're waiting? What would be the best use of your time? Here are some suggestions:
1) Take a look around to see if there are any signs of recent successes for the company.
Are there any certificates they have picked up? Any customer testimonials in frames or on the notice board? Are there brochures for the company's products? Anything like this can give you a big clue for something positive you can open the conversation with.
2) Check the visitors' book.
I went to give a presentation in London to a company who said they were looking at MTD and one other company to work with. I knew my competitor was going to be presenting two hours before me. By looking in the visitors' book for the approximate time they would have arrived, I could see who there were, even though the prospect had kept it secret from me. It enabled me to shape my presentation around the areas I knew my competitor would not be covering.
Take a look and see if there are any signs of your competitor being there before. Are there any merchandise like pens, mouse mats or paper pads with their names on them. Of course, you may want to leave some of them yourself!
3) Re-aquaint yourself with the benefits of your solutions.
Know that your solution is going to be the best option for the prospect. Frame your questions so you can determine how best to present them. Be aware of what the decision-makers will be looking for from you.
4) Talk to the receptionist.
Rather than just sitting there in silence, how about having a chat with the receptionist to see how business is going and finding out a bit more about the company. Using your smarts will give you a lot of valuable information.
So, use the time you have available while you are waiting for the prospect to give yourself confidence you have all your ducks in line.
Happy selling!
Sean

Sean McPheat
Managing Director
MTD Sales Training | Image courtesy of Ambro at FreeDigitalPhotos.net