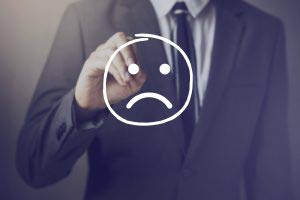 You know the situation…you've been on top form and the prospect still says no!
These are people that don't see the benefits of doing business with you, and you can recognise them quite easily. Prospects who cut you down on price, make unreasonable demands, give your competitors the business, make outrageous demands, never return your emails or calls, call themselves the decision-maker and then have to gain permission from the board. Oh, and they still want fantastic, brilliant, quick service too!
No matter what you do, these kind of customers are never happy. You feel rock-bottom dealing with them. But, I hear you ask, isn't any business better than none?
Think about how much time you waste with these no-good clients. How much does it actually cost you in effort and actual hard cash to service these types of customers? Add it all up and it will be obvious that these customers should be avoided.
Vow from now on that you won't take on these over-demanding customers. They take the time that would be better spent with prospects that really want and need your products and services. Fire those prospects! If they push you on price, think whether you really want to have the business at the price they are asking. If not, walk away and find prospects who will benefit from your support.
Use the time that you would have wasted with that prospect to find new customers.

Happy Selling
Sean

Sean McPheat
Managing Director
MTD Sales Training | Image courtesy of Big Stock Photo