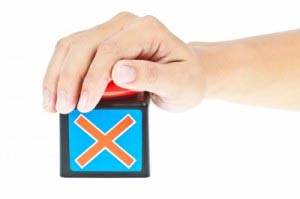 One of the hardest situations for a salesperson to deal with is when a prospect is using an existing supplier and is satisfied with the arrangement.
Often, clients get used to a supplier and fall into a sort of 'well of comfort' where they accept the level of support as being the norm, and are lulled into allowing the current level of service as being the best it can be.
We're not suggesting that your service will always be better than what they are experiencing at the moment, but there may well be opportunities lurking out there that the prospect is unaware of because they haven't checked out the competition or they haven't shopped around to see if there could be various options available.
How would you deal with a prospect who has been using a supplier for some time and i satisfied with the service they get?
Well, how about something like this…
"That's OK, Mr Prospect, we realise that you are most likely satisfied with your current supplier, and that's good. We would still like to keep in touch, as we provide information to those companies who use technology like ours. We are producing webinars and whitepapers on the new technology as we speak, and I know they will be of benefit to you. So I can make sure the information is specified for your organisation, can I just ask a couple of questions?"
What this does is;
1) Gets the prospect on your side by showing you appreciate their current position
2) Not put any pressure on the prospect
3) Help them to see how they can still stay up-to-date with information in the field
4) Ensure any information they get sent is specific to their needs
5) Show you add value up-front to them as a client
You can also convince the client that you could be their second source if ever their current supplier cannot fulfill an order, or if they aren't as red-hot as they usually are. You're not trying to break up their supplier/customer relationship…you're just offering an alternative when they might not have seen one before.
If you get into a conversation with the prospect, out of curiosity you could ask when the next evaluation of suppliers is taking place. This would give you the opportunity to be in the right place at the right time when they look at future options.
Being aware of what the prospect is considering when they choose a supplier will help you next time they are looking.
Happy Selling!
Sean

Sean McPheat
Managing Director
MTD Sales Training | Image courtesy of Frame Angel at FreeDigitalPhotos.net