About 20 years ago there was a revolution in the sales world, one that drove many people out of selling altogether, but drove others towards earning fortunes.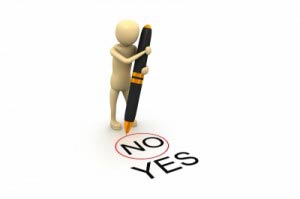 Before that, most prospects found out about your products and services by listening to your pitches and discussions on the phone, in brochures and in person. They believed what you said, based on their trust of you and what you may have done in the past for others.
Then the revolution came and all changed. Prospects could find out everything they wanted to know via the net, and they didn't (and still don't) need you as a salesperson to come and tell them what they want. Most prospects say they know what they want before calling you.
Now, what are the requirements that makes a prospect agree to your product and service offerings? How can the decision-making process be sped up so they are convinced and belief that you are the solution to their needs?
Well, it starts by recognising the reasons why prospects reject sales approaches. And it very often boils down to one reason, which is…
They don't see the value of what you can offer exceeds the investment they will have to make.
This could, naturally, involve the price or cost of the product and service. It could also involve the timing or the delivery or the warranties or the competition, or a plethora of other reasons.
It all boils down to whether the value of your product to them or their business is worth it to them. Is it worth the changes they will have to go through to get your product?
Whether they say yes or no depends on their viewpoint. If you can solve a problem that the prospect has, and they see what they have to invest equals or is less than the 'worth' of the solution, they are more likely to say 'yes'. If the investment is equal or more than the 'worth' of the solution, the answer is likely to be 'no'.
Think about how you can get prospects to see the value of what you have , in relation to what you can do for their business or for themselves. By doing this, you increase your chances of the prospect saying 'yes'.
Happy Selling!
Sean

Sean McPheat
Managing Director
MTD Sales Training | Image courtesy of Renjith Krishnan at FreeDigitalPhotos.net