Understanding Your Prospect's Buying Motives – Video Blog
Posted on Have Your Say: Leave a comment?
To sell to new prospects and clients you must understand their reasons for buying. What is motivating them to make this purchase? What are they going to get from it? How will it benefit them? Why do they need it? If you don't truly understand your prospects buying motives you will find it very hard to make a good sales presentation to them and even harder to close the deal in the end. Watch our short video below on buyer motivation and make sure you really understand why your prospect is choosing to buy.
Happy Selling!
Sean McPheat
Managing Director
MTD Sales Training
Have you downloaded my latest report "The Sales Person's Crisis"? Over 10,000 sales pros have. Click on the image below to find out why your very existence as a sales person is in doubt…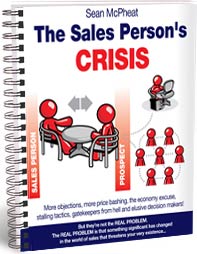 This entry was posted in Prospecting and tagged Buyer Types, buying motivation, why do people buy. Bookmark the permalink.