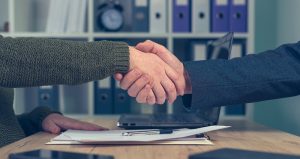 One of the biggest changes in sales over the years has nothing to do with selling itself.
It has to do with the way that the buyer has changed their modus operandi.
The process of sales is evolving as technology, globalisation and communication methods advance and progress.
But the evolution of the buyer has been exponentially faster.
So what do you need to do to keep up with these changes?
Here are five up-to-date ways to sell to the modern-day buyer:
1) Be social-media savvy
The new buyer knows what they want and has done a lot of research.
Your ability to be at the forefront of their mind when they are looking for solutions is paramount.
As time is progressing, we see social media in a business setting is becoming the main medium for finding information and assimilating choices
2) Create value with ideas outside the range of money
We often think value is linked to how much products and services cost.
The modern-day buyer has needs and wants also outside of this narrow-thinking paradigm.
Value is also judged by long-term results, the ability to achieve personal goals, a higher ROI, and other ideas that create additional components to simply judging value by monetary aspects.
3) Target customers across multiple channels
Hubspot's recent report on The State of Inbound (2017) said ""the amount of research and analysis that goes in before employing a particular strategy has increased manifold and constant checks on the trends of consumer behavior are changing as well."
Multiple channels means the customer needs to be approached in a variety of ways.
As they are expanding their operations, you need to be available when they contact you over facebook, twitter, Instagram and others that customers are using.
4) Offer unique and valuable insights
What makes a buyer decide to be loyal to a supplier?
It's no longer the cheapest price or best quality that drives decisions.
It's now the ability to help their business succeed in areas where help and insights are required.
Modern research shows that offering insights and helping buyers to make decisions for the benefits of their business is key to getting the modern buyer involved.
5) Build relationships at multiple levels with the business
Sharing knowledge and experience always increases the value of a sales relationship, and becoming a trusted advisor is a pre-requisite for working with today's modern buyer.
If you can build those relationships throughout their companies and your own, you create more reasons for loyalty from the buyer's organisation.
Being in the mind and heart of the modern-day buyer is an ever-changing and evolving process, and if you can build credibility and accountability with them, you stand a very good chance of establishing a firm hold on their future business, as you tap into what the modern buyer is requiring from their modern-day supplier.
Happy Selling!
Sean

Sean McPheat
Managing Director
MTD Sales Training | Image courtesy of Big Stock Photo