Hi all,
I thought I'd pop by with some more exciting news from the MTD HQ – and this week it's a biggie! In just over a week MTD's MD Sean McPheat will be centre stage at the Institute of Sales and Marketing Management's (ISMM) Successful Selling Conference at the Ricoh Arena in Coventry on October 20th.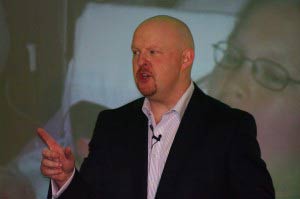 Sean is sharing the stage with some other big names in the business, including Michael Portillo and Alice Beer from Watchdog, who will be presenting to over 1,000 sales professionals from all over Europe who are attending this coveted event.
Sean's session is focused on the concept of eselling® – the alternative way to prospect and sell online. Following the success of Sean's bestselling book of the same name – which beat the likes of Lord Sugar, Duncan Bannatyne and Richard Branson to the top spot on Amazon shortly after its release in July – MTD Sales Training have now created both an eselling® training course and a trainer license programme in order to keep up with the vast demand for the subject.
eselling® (for those who don't yet know) is the art of using social media and other internet-based services to enable better prospecting, personal branding, networking and engaging with key decision makers online. Through eselling® you can learn to position yourself as an industry expert in your field and become a trusted advisor to your potential clients and buyers, and demonstrate why you are the person they should come to for their wants and needs.
Sean is very excited to be presenting at the ISMM's yearly showpiece at the Ricoh Arena, as the venue is based in the hometown of MTD's HQ. After a whirlwind few months presenting his sessions on eselling® to packed houses at numerous industry conferences across the UK, Sean is glad for his feet to be back on home ground and believes that appearing at the ISMM's Successful Selling Conference is the ideal way to bring eselling® back home!
MTD will also be exhibiting at the event, and after the massive success of Sean's recent eselling® keynote presentations – where Sean and eselling® have always been the talk of the event – both Sean and the MTD team are eagerly awaiting the response eselling® will receive this time around!
For more information on the ISMM's Successful Selling Conference, please visit http://www.ismm.co.uk/events for a full agenda of the day.
See you again soon folks,
Louise Denny
Marketing Manager