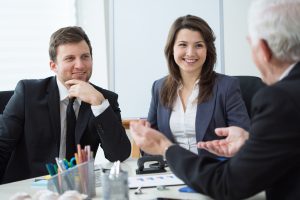 Do you remember the saying years ago that went along the lines of 'He has the gift of the gab….he should be in sales!'?
According to many people in the old days, if you could talk a lot, you could convince someone that they should buy from you.
How times have changed!
Today, it's the customer who holds all the aces.
It's the customer who has done their homework and research, and it's they who set the rules for the conversation.
So, now that product knowledge is not the main concern of the prospect, how can you still control the conversation so you are taking it in the right direction?
Well, the main thing to remember is the new saying that has replaced the old: "He who asks the best questions controls the sale".
What this means is that the quality of the question determines the quality of the answer.
You may think that the customer is king and that they control the pace of the dialogue.
The truth is that you can control exactly what happens during the conversation through the type and quality of the questions you ask.
Before you make contact, research what the prospect already knows about you and your company.
Have they used your products or services before?
If not, who have they been using to get the results they have achieved so far?
Do you know where they falling short at the moment?
What this allows is for you to create the type of question that will take you further than your competition can get.
You control the pace of the conversation by discussing those areas that are important to both you and them.
You highlight what you know already and then work with them to see how the future can be different.
Remember…your prospect will only buy if they see your solution will create a better future for them, in whatever way they measure it.
By determining the best questions to ask, you hold the reigns in the conversation and build a firm foundation for constructing the direction of the discussions and what information you uncover.
Happy selling!
Sean

Sean McPheat
Managing Director
MTD Sales Training | Image courtesy of Big Stock Photo