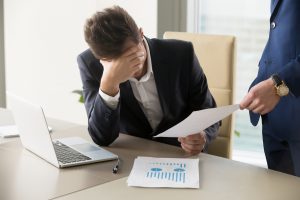 It happens to us all.
Even though you are doing the same things that you were doing when sales were up, you enter that phase where nothing closes, no-one wants to talk to you and the competition start taking over.
It can be enough to drive you to depression.
But it needn't.
Here are some tips that will improve your motivation and drive when things aren't going according to plan.
1) Remember that 'motivation' is temporary
It isn't all-pervasive and permanent. It doesn't define you as a person; it is always a short-term issue, as sales cycles come and go.
You need to decide what caused the slow slide into demotivation and determine to understand that 'motivation' simply means 'motive for action'.
You need to understand it's your motives that need to change before your actions follow.
Without good motives driving you forward, you simply won't take the necessary action to get anywhere.
2) Identify what you can control and what you can't
This means concentrating on what you can do about the slump, rather than whining about what you can't.
You can't control the weather, the economy, industry legislation or competitive offers.
All you can control is your response to these issues.
Keep things within your 'circle of control' rather than areas that you have little chance of changing.
3) Set short-term, achievable goals
Think of these as milestones on the journey back to success.
Your overall goal may be to achieve your campaign target in three months' time.
That's necessary to keep in mind, but if you set weekly targets for yourself, you have achievable and visible tasks that can be done to reach forward.
If you're successful and achieve that milestone at the end of the week, it gives you the impetus to rally forward to the next week.
4) Keep learning new ideas
You tend to become more introspective when things aren't going quite right and you lose the ability to see the big picture.
I know it's easier said than done, but this is exactly the time when you need to widen out, seek ideas from other successful people and keep your spirits up by reading and listening to people successful in sales.
When you find out what they have done specifically to get themselves out of a slump, you start to create the motives for the actions that will take you forward.
5) Don't get bogged down in too much over-analysing and over-thinking. Keep it simple
You don't need to dissect every meeting you've had recently or analyse every conversation you've had; instead, start contemplating what you can do in the future.
Yes, learn lessons from the past, but treat the past like a school, not something you live in.
6) Start each day positively
One of my inspirational speakers is Tony Robbins, and he advocates starting each day with questions like 'What am I proud of about myself?' and 'What skillsets do I have?'.
If your instant answers are 'Nothing!' and 'None!' rephrase the questions to 'What could I be proud of about myself?' and 'What skillsets would I like to have?'
These questions get you to start thinking in a more positive, action-oriented way, rather than depressing yourself even further.
7) Forget your failures and concentrate on your successes
I remember hearing Michael Jordan say once that "I've missed more than 9000 shots in my career. I've lost almost 300 games. 26 times, I've been trusted to take the game winning shot and missed. I've failed over and over and over again in my life. And that is why I succeed."
You'll only succeed if you concentrate on what has to happen for you to achieve, rather than focusing on what's constantly going wrong.
Each of these seven ways will help you achieve your goal of improved self-motivation, but only if they are practised and actioned.
It takes high moral fibre to build your confidence when things are going badly for you.
Although not always easy, raising yourself up by following these tips will do wonders for your confidence and, ultimately, your results.
Happy Selling!
Sean

Sean McPheat
Managing Director
MTD Sales Training | Image courtesy of Big Stock Photo