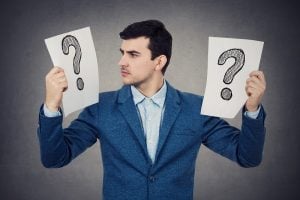 What makes a great salesperson? Product knowledge? Great organisation and timekeeping? The ability to prospect effectively?
All these are, of course, vital in the armoury of the salesperson who wants to make a success of their profession.
But there's one skill that I believe puts a salesperson head and shoulders above their competition, especially when they are actually face to face with the prospect, at the cutting edge of the decision-making process.
And that skill is the ability to ask hard-hitting, thought-provoking, stop-me-in-my-tracks questions.
Now, you already know how important questions are, and you've probably heard you need to ask open questions to get the prospect talking.
That's ancient sales talk.
However, the type of question that will set you above all other salespeople is what I call the 'action-inducing' question.
These are questions that focus not on what I think the prospect needs, nor the problems faced, nor what the current pain is.
Instead, they focus on what the prospect is doing now and what the results of those actions are.
This way, we get a clear picture of what is going on, how they do things and what changes might have to be made to get the results they are requiring.
For example, we are currently working with a large European company in the construction industry.
They approached us for help on how to develop their salespeople's skills in the consultative process.
Rather than just having the salesperson go in armed with all the knowledge of their products, this company wants to change the mindset so the approach is one of solution-oriented consultation.
Our first approach, then, was to find out exactly what the salespeople actually do and say right now.
We asked "How are you inducting and training your sales staff now in order for them to go out into the field? What continuous training and development do they receive to get them confident in asking for business? How do they currently approach challenges and concerns that they face on a daily basis?"
These questions are all about the actions the company and salespeople make in their day-to-day operations, and it's vital we know the processes they go through before we can see if any changes are required and in what way those changes should be rolled out.
If we had simply designed a programme on consultative selling without finding out about the actions currently employed, we would most likely have missed the key points needed by this client, and any programme would have been sterile at best and pointless at worst.
The questions that are needed are based on current action, so you get a clear picture of what is happening now.
This is essential if you are to identify the changes that are required to get different results from what's happening at the moment.
Formulate your questions to ascertain what the prospect is actually doing now and you'll find your relationship-building is easier, more meaty conversations are carried out and trust is built much more quickly.
Happy Selling!
Sean

Sean McPheat
Managing Director
MTD Sales Training | Image courtesy of Big Stock Photo