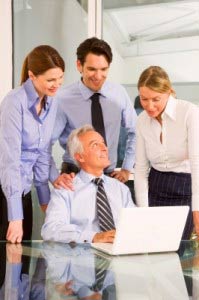 This is an interesting question that came up in one of recent sales courses. The sales person wanted to know if there was an ideal time period to spend on idle chit-chat (or rapport-building, as he termed it) before getting into the meat of the meeting. He felt that sometimes he sounded as if he was avoiding the real issues the client had by making small talk, but he also didn't want to just say 'Hallo, here's what we can do for you'!
Well, what would you say the purpose of small talk is? Let me give you three scenarios:
1) You compliment something in the prospect's office, like their view or posters or pictures
2) You refer to a big news item so they see you are up-to-date and interested in world affairs
3) You refer to something that proves you've done your homework on their company or they themselves
The first two are typical introductions and make you fall into the same barrel as every other salesperson who has crossed their threshold.
The third is something that makes them feel you have their best interests at heart and that you are getting round to business, without (and this is the main point) digging deep into your products or services or putting too much pressure on.
Think of the introductions as an opportunity for you to build rapport at the professional level. If your initial discussion points revolve around the global picture of how their business is going, you set the scene for taking discussions deeper later on, and you don't have to worry about crossing the threshold from how good or bad the weather is to talking about why you're really there. There's plenty of time to talk about last night's game when you are having a natural break in the meeting.
Here's an example of openers I like to use in sales meetings when I meet with prospects:
"I noticed from your LinkedIn profile that you used to work in the (xxx) industry. Was it a challenge moving into a new industry like this one?"
"I really appreciate that you're taking the time to meet with me when I know things are really busy for you these days. You must be facing some real challenges with the re-organisation that your company announced recently."
"The company results you announced yesterday must have been really pleasing for you. Were they better than expected?"
This way, you are still creating small-talk, but the emphasis is on how professional you are, and the rapport can still be built as you walk through the global issues before honing into the more detailed areas.
Consider the small-talk in the sales meeting as helping you build rapport with the client on a business level. There's plenty of time to discuss more mundane matters after the rapport has been gained. That way, the prospect doesn't feel that you are simply asking questions that everyone else has in order to try to get 'friendly'. Many prospects simply see it as patronising, so get to their level quickly and decisively, showing you appreciate they are busy and want your help as soon as possible.
Happy Selling!
Sean

Sean McPheat
Managing Director
MTD Sales Training | Image courtesy of Ambro at FreeDigitalPhotos.net