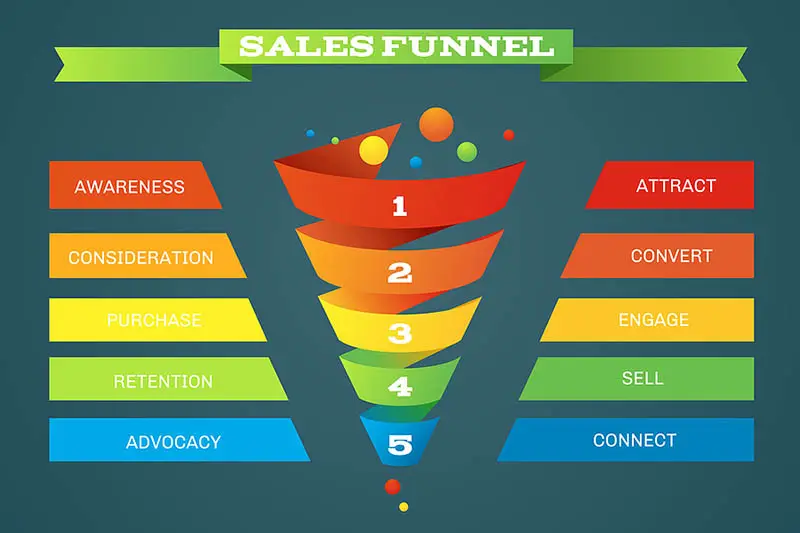 Ever come across terms like "Sales Funnel" or "Main Funnel Stages" and found yourself a tad puzzled? Don't worry, you're not alone!
In this blog, we'll dissect these buzzwords, providing a comprehensive guide to the inner workings of a sales funnel.
From capturing your initial leads to successfully converting them into customers, our mission is to transform this seemingly complex jargon into an accessible, straightforward tool for your sales strategy.
So, buckle up and join us as we unravel the intricacies of these critical elements, designed to catapult your sales success to new heights. Let's dive in!
What is a sales funnel?
In a nutshell a sales funnel is a representation of the stages that a prospective new customer needs to progress through in order to become one of your customers.
I have seen some very complex funnels over the years and some very simple ones but when you strip everything back they have some common stage names and a natural flow to them.
Let me illustrate this with a few examples;
A B2B sales funnel example
Imagine that you're selecting some new software on behalf of your company.
The first stage could be that you're investigating solutions so you contact companies and have a chat to them about your needs. That's a stage in the funnel.
Then you select some that did a great job and ask them to create a proposal and costings for you. That's another stage.
Then, you select two of the best and call them into the present. That's another stage.
And finally you pick a provider and you become their customer.
A retail sales funnel example
Let's take a look at another example but this time in retail.
You're looking for some new jeans.
So you've looked on the internet and haven't found anything. Anyhow, you like to try them on in a store so you plan on visiting your favourite shop to try and find some Jeans that you want. So that's stage 1 of the sales funnel.
You go into the store and select 3 that you like. That's the next stage. Then you try them on. That's another stage! And then you select a pair that you like, pay for them and then leave the store. That's another stage!
The Sales Funnel Stages
As I mentioned earlier I have seen some very complicated sales funnels. One funnel had over 12 stages!
Granted, this was a strategic sale with many internal and integrated stages but still, to have a customer go through 12 stages is interesting to say the least!
When you strip it back to the bare bones, each sales funnel has 4 main stages.
We'll cover what these stages are. I will then go into greater detail and show you some real life examples of sales funnels that I have come across.
The main stages of any sales funnel is: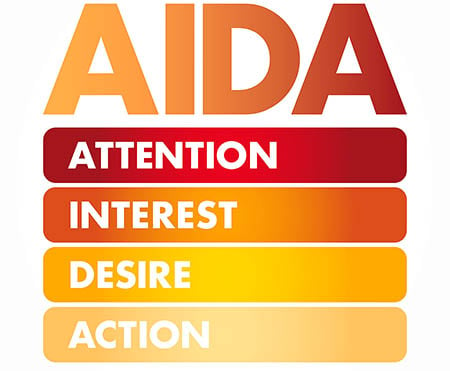 Attention
There's a lot of choices out there! So many vendors and providers are wanting your custom.
Attention is normally associated with marketing but it can be from the sales team as well.
The role of both departments is to turn your head. So that could be through an advert, or something a sales person says or the way they open a cold call. It can be a fantastic piece of content or a viral video.
Grabbing someone's attention is hard. Everyone has so much going on that you really need to stand out.
Interest
This stage is all about research. Your customers are researching your products and services and are also checking out competitor alternatives. They are gathering information, reading reviews and are asking friends and colleagues for recommendations and what they think.
During this stage you need to help them.
That doesn't mean going for the sale. But help them to decide what is best for them. Educate them and help them.
Decision
This stage is all about selection! Your customer will most likely have a couple of options in mind and you need to get the deal over the line. So pricing and the terms will be important and how you articulate the benefits of the selection will all help.
I think we've all lost deals which we thought were "shoe-ins" only to analyse the deal and make the conclusion that we didn't really cover the benefits of choosing us or how the item will add value.
During this stage your job is to make your product or service the ONLY viable choice.
Action
So your customer may have decided but did they take any action?
As a sales person did you ask for the deal?
If it's an online purchase, was there a clear call to action?
And what about any upsells or cross sells? This can all be part of your sales funnel.
The sales funnel does not stop there. You really want and need to maximise the lifetime value of a client so you need a practical follow up process to farm their accounts.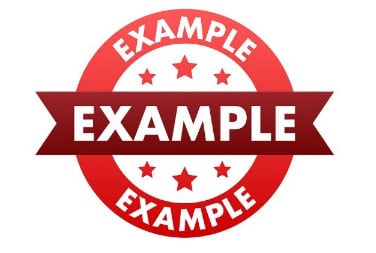 Sales Funnel Examples
Let's take a look at 2 sales funnel examples.
The first example will be the sales funnel of a company that sells via making outbound telephone calls to generate interest.
The second example will be an online sales funnel from a company that advertises online to create leads.
Example 1 – Telesales Sales Funnel
With this example imagine a team of telesales reps calling businesses to set up appointments. They call 500 decision makers and from that create 5 sales of which 2 of those purchase an up-sell product or service that the salesperson offers them.
The beauty of this is that from a sales coaching perspective you can see where the strengths and weaknesses are for the sales person. Their sales manager can then work with them to improve each element and then measure the outcomes.
Their ratios in the example above are the following:
| | |
| --- | --- |
| Sales Funnel Stage | Ratio |
| Calls to Appointments | 10% |
| Appointments to Proposal | 60% |
| Proposal to Closed Won | 17% |
| Closed Won to Up-sell | 40% |
| Overall Calls to Closed-Won | 1% |
So there's definitely room for improvement and some of the areas that could be covered within a telesales training course or individual coaching programme could include:
Analysing the time of the day that the rep is calling
How do they capture the attention of the recipient?
Are they asking the right Sales Questions and at the right level?
Are they talking to the decision maker?
Are they finding it hard to get through the gatekeepers?
Do they sell the appointment or are they trying to sell the product?
Do they leave voice messages? If so, what message and how many get returned?
40% of the appointments do not result in a proposal. Why? Qualifying too hard? Not qualified?
83% of the people who receive a proposal do not buy. Why is this? Analyse the speed it takes to create a proposal, pricing and follow up
Is an up-sell offered for every person that buys?
Those are just some of the areas to immediately look at.
Example 2 – Online Advertising Sales Funnel
With this example your company runs Google Ads that captures lead data from an online landing page. Your sales team then call the lead and qualify them using M.A.N:
Do they have the money, the need and the authority to make the decision? If these 3 criteria are not met then they are qualified out of the process and do not progress to the next stage of the sales funnel.
Once qualified they are then "sold" on taking an online demo of the software that your company sells. Some buy and some don't. Some even purchase an up-sell product.
All in all, for every 100 leads this salesperson receives they close 5 of them.
Their ratios in the example above are the following:
| | |
| --- | --- |
| Sales Funnel Stage | Ratio |
| Leads to Qualified Lead | 40% |
| Qualified Lead to Demo Set | 50% |
| Demo Set to Closed Won | 25% |
| Closed Won to Up-sell | 20% |
| Overall Calls to Closed-Won | 5% |
In terms of the above example some of the areas we could look at include:
Is there anything on the ad that could qualify the lead upfront a little better? (60% drop out)
Split test the ad with a version A v version B
Is the salesperson qualifying too hard?
Why do only 50% of the qualified leads agree to a demo if they are qualified?
Analyse how sales demos are conducted by the salesperson to improve the 20% closing ratio
Is an up-sell offered for every person that buys?
Those are just some of the areas to immediately look at.
How To Create A Sales Funnel
Some organisations that we conduct sales consulting for create their sales funnel from the wrong perspective.
What I mean by this is that they create a sales process and funnel and expect their prospects to conform to that when what you should be doing is find out how people and organisations purchase your products and services and then create a sales funnel and process around that.
Your selling process should match and mirror their buying process.
If you take a prospect down a road that they are uncomfortable with then they will not purchase from you. So make sure that both the buying and the selling process are aligned. There are also a number of Sales Automation tools that can help you to manage the funnel process as well.
Find Out What Works And What Doesn't
I recommend that you continually measure your efforts at each of the sales funnel stages. You can enter all of your stages into a CRM system and with the press of a button can have access to data which is already analysed. This will give you the hot spots to do a deep dive on so you can work out what you're currently doing and how you can do it better.
You then "go again" and after a period of time look over the figures again. And this process continues. Never rest on your laurels.
We offer several Sales Courses to help you manage your sales funnel more effectively. Our most popular is our 2-day Selling Skills Training Course which covers all the bases for you to be successful in sales.
Happy Selling!
Sean

Sean McPheat
Managing Director