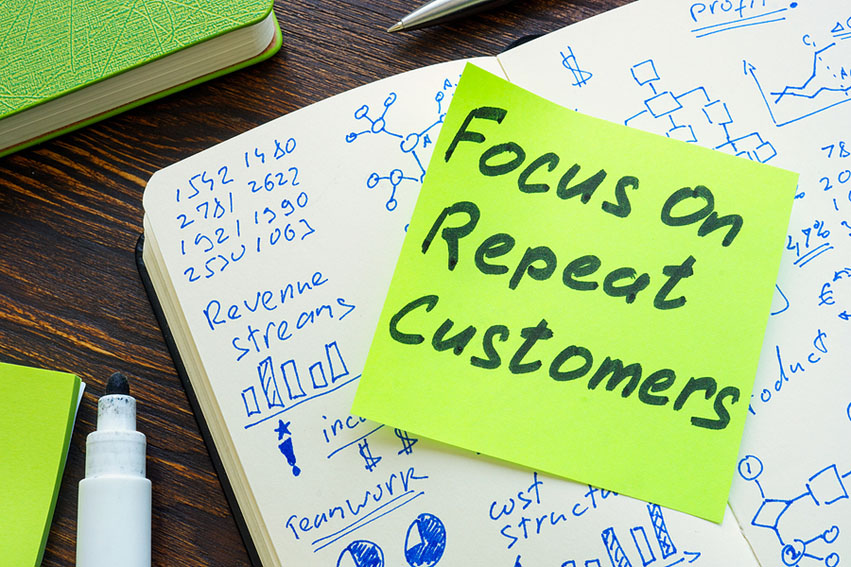 Don't you just love it when one of your customers places a follow-up order?
How about when you get a call from a customer saying they'd like a repeat of what they got from you before?
Nothing compares to the great feelings that flow through you when this happens. You realise that all your hard work was worth it, and you feel rewarded by repeat business that you didn't have to do too much to gain.
How do you enjoy this feeling more often? Everything you need to know about gaining repeat business is explained below.
Contents

What Is Repeat Business?
Repeat business occurs when a customer purchases from your company more than once. It could be an additional product or service or even the same order that they placed before.
In short, repeat customers are the lifeblood of any organisation. You want your customers to come back time and time again.
You've put in all the graft to win the business and you're managing the account well, so repeat orders are just great if you can get them. They are usually a lot easier than generating new business. After all, you already have a business relationship that they trust, and your products and services, hopefully do the job they were purchased for.
So, what are some effective ways that you can increase your chances of gaining more business?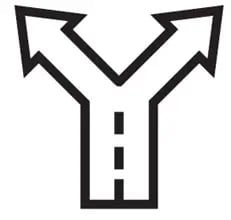 Ways To Generate Repeat Business
From improving your content to checking in more often, you can use a variety of tactics to generate more repeat business. Here are some effective options to start implementing today.
1) Give more value
Relationships aren't built on discounts or special offers. They are built on value.
Jeff Gitomer states that 'value is what you do up-front before the sale, and what you do during the relationship.
You don't add value…you give value.'
You need to think about 'what's in it for the customer?'
If they see value in what you provide, they are more willing to consider repeating their order because the value in what they received from you has gone up.
2) Simply keep in touch
Show them that you are interested in them and their business, even when they aren't in the business of buying from you.
If the only time you contact them is when you are talking about your products and services, you run the risk of being a nuisance and sounding like every other salesperson they speak to.
Instead, identify opportunities to contact them with valuable information and industry knowledge. Develop an account management strategy so nothing is left to chance.
When you do this, customers are more likely to see you as an asset to them rather than a liability.
3) Formal review meetings
Often, customers will say that the only time they hear from a supplier is when that company wants to sell them something.
Break that mould.
Be a supplier who is really interested in the company you are dealing with.
Identify their business objectives.
Look at how they deal with their competition.
Analyse what their future goals are.
When you do this, you show them that you're not like all the other salespeople. You are, in fact, not trying to sell them anything. Instead, you're offering them value beyond the product.
That's what makes a good account manager what they are.
4) Give reasons and rewards for loyalty
Depending on the type of business you run, a loyalty card or bonus structure for future orders could be something worth utilising.
These options offer customers more reasons to give you repeat business.
Being rewarded for further orders could drive loyalty and encourage customers to enhance their relationship with you.
5) Make the relationship personal
Getting a birthday wish or an anniversary card from someone is always a nice gesture.
If it's from one of your suppliers, neatly written out on a card and sent in a stamped, addressed envelope, it makes it more than memorable.
Show your human side by sending your prized customers something to show you care.
Don't make it appear like a bribe, though. That can spoil everything.
Making it personal and specific says an awful lot about how you view the value of doing business.
This creates a bond that goes beyond a business setting and makes them realise they are making the right decision by using your services.
6) Offer more after-sales support
Don't leave your customers hanging after they've made a purchase. If you want them to stay loyal and come back to your business in the future, you need to offer after-sales support as well.
The specific type of after-sales support you provide will vary depending on the types of products or services you sell.
If you sell a more complicated product with a steep learning curve, for example, you might offer installation or setup services to ensure your customers can start using the product right away.
You might also reach out a couple of days after the purchase to check in with customers, find out whether they still like the product, and address any lingering questions they might have.
Your customers will appreciate you checking in and staying in touch — especially if they're confused about the product or service, you've sold them.
This will encourage them to stick with you the next time they need products or services like yours.
7) Make yourself more visible in the community
Your customers might be more inclined to continue buying from you if they see you as a fixture in the community. This is particularly important for small and local business owners.
How do you make yourself more visible? Start by looking for ways to give back.
Can you volunteer at a local charity? How about offering business advice or mentoring to other entrepreneurs?
You can also attend local events and get better acquainted with others in the area — both business owners and local consumers.
If your customers see that you care about the community and are an active participant in local events, they'll be glad that they support your business. They'll also be more inclined to continue supporting you moving forward.
8) Improve your social presence
In addition to improving your public profile in the community, you should also make sure you're improving your business's online presence.
If you make yourself more visible online, it'll be easier to keep your business — and your products or services — at the forefront of your customers' minds.
When customers see your posts while scrolling their feeds, they'll feel encouraged to revisit your store when they need to restock or want to invest in a different kind of service.
Make sure you're also using social media to shout out customers who are talking about your products or services on their own feeds.
If someone tags your business in a post, share that post on your profile and thank them for their support.
This helps you reach more people, and it encourages your customers to continue supporting you so they can continue getting positive attention online. Check out our Social Selling Training for some guidance on how to make this work for you.
9) Encourage customers to provide feedback
Let your customers know that you want their feedback, both positive and negative.
Make sure they know that you value their opinions and want to continue making your products and services better for them.
The following are some specific ways that you can encourage feedback from your customers:
Send a survey via email after they complete a purchase
Make comment cards available in your store if you have one
Post polls or question boxes on social media asking about potential improvements or changes
You can also reach out to customers directly as part of your after-sales support program. This gives you a chance to learn about their experience immediately after making a purchase.
Regardless of the way you reach out to collect feedback from your customers, make sure you act on it.
If your customers suggest changes or improvements and you don't implement any of them, that's a sign that you don't care about their feedback.
If you don't care about their feedback, why should they continue giving it?
Furthermore, why should they continue supporting your business?
10) Prioritise customer service
On a similar note, make sure you are prioritising quality customer service for all customers.
It doesn't matter if someone has recently made a purchase or hasn't bought something from you in years. Every customer who reaches out to you deserves the same level of service and attention.
When you offer good customer service, you encourage recent buyers to continue working with you. You can also inspire past customers to come back and buy from you again.
How can you level up your customer service strategy? Here are some suggestions to get you started:
Draft specific customer service principles; include them in your employee handbook and on your website
Send customer service surveys after every interaction to figure out what's working and what isn't
Offer multiple communication channels — phone, email, chat, etc.
Offer co-browsing for easier problem resolution
You can also offer live demos and training sessions to provide support and answer questions in real-time. Check out our Customer Service Training for more advice and help on this.
11) Provide round-the-clock assistance
To further expand your customer service offerings and delight your customers, you might want to start offering round-the-clock assistance.
Worried about the cost of employing more customer service workers so you always have someone available? Don't panic.
Instead of hiring more employees, consider using chatbots instead.
Chatbots use artificial intelligence to answer frequently asked questions and provide round-the-clock help to your customers.
If your customers know they can always get help, even in the middle of the night, they'll want to continue supporting your business. After all, they'll feel confident that you'll always be there — in one way or another — to help.
12) Upgrade email marketing efforts
Email marketing is a simple, affordable, and effective way to stay in touch with your customers, remind them of your products or services, and alert them to new offerings.
If your email marketing strategy isn't as sophisticated as you'd like, now is a great time to update it.
Here are some specific steps you can take to upgrade your email marketing efforts:
Encourage additional purchases in confirmation emails — showcase related products or special offers, include a discount on their next purchase, etc.
Send follow-up emails as part of your after-sale support
Provide value in every message — a discount, news about a sale, a blog post explaining ways to use the product, etc.
Make sure you stay in touch with your customers via email. The key, though, is to strike a balance.
You don't want to spam customers, but you also don't want to go months without talking to them. Send messages often enough that they remember you, but not so often that they get sick of you. Here are some catchy sales email subject lines that will get opened.
13) Monitor your competitors
If you haven't been doing this already, make sure you're monitoring your competitors regularly.
Keep an eye on their social media feeds, email marketing messages, website updates, etc. Take note of what seems to be working and what isn't, too.
The more you know about your competition, the easier it is to stay in the loop with the latest trends.
You can also see what mistakes you need to avoid that could potentially lead to you losing customers.
Furthermore, monitoring the competition helps you figure out what you can do to stand out.
No matter how you do it, when you stay informed about your competition, you'll be able to make changes that help you retain customers and avoid losing them to other businesses in your industry.
14) Host special events for loyal customers
It's one thing to say thank you with a postcard or an email. If you really want to thank customers for their loyalty, though, consider hosting a special event to show your appreciation.
This could be an in-person event, like a holiday party or family movie night at a local theatre.
You could also host a virtual event if you run an online business or want to celebrate customers from across the globe. During virtual gatherings, you can play games or host a raffle to keep guests engaged and thank them for their support.
Be sure to take lots of pictures and videos during the event, whether it takes place in-person or online. Then, share the footage on social media and your website to let other customers know what they missed out on.
This might encourage them to continue shopping with you so they can participate in future events.
15) Don't get complacent
Finally, one of the most important things to keep in mind if you want to gain more repeat business is to never get complacent.
Don't assume that you've got it all figured out. Continue monitoring results, assessing your strategy, and making improvements. Check-in with your marketing and sales teams regularly to see what's working and what isn't, too.
When you get complacent, you miss out on opportunities to improve your efforts and gain more repeat customers.
Celebrate your wins, of course. However, don't take them as signs that you can sit back and relax.
Do this, and you'll be creating an opportunity for your competitors to swoop in and steal our loyal customers!
Get More Repeat Business Today
These 15 ideas should help you build up your value in your customer's eyes and could make it easier for them when they need to choose who they should buy from next.
Want to learn more?
Our Sales Training Courses always demonstrate the value of repeat business. They teach you what it takes to win an account and then to farm it.
If you're looking for a more detailed way to develop business from existing customers, then we recommend that you look at our Account Management Training or some of our B2B Sales Techniques.
Happy Selling!
Sean

Sean McPheat
Managing Director