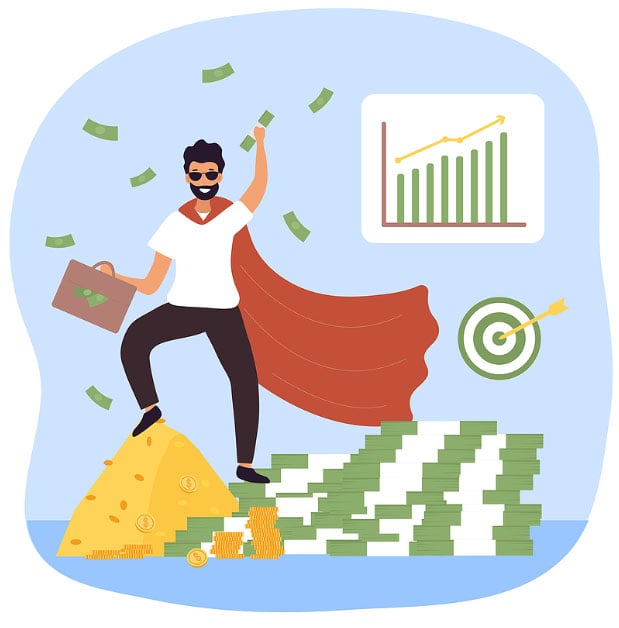 Modern day sales managers and sales directors are always thinking of how they can increase sales team motivation and sales performance. They are forever looking for new sales incentive ideas to run to drive sales.
When you initially think of running sales team incentives you immediately think of more money. It's the "go to" for salespeople. But there are a lot of other non-money related sales incentive programs that we've come across that have had the desired result.
So, we've put together 18 incentive ideas for sales that you can use. Go down the list and see which ones are well suited to what you sell, how you sell, and the dynamics of your sales team.
Contents
What Is a Sales Incentive?
Put simply, a sales incentive is any publicised system that rewards sales executives or reps for achieving set sales targets or KPIs. It can take the form of a monetary bonus, or other benefits or symbols of recognition.
The Cambridge Dictionary defines the term as "money or a reward offered to salespeople for selling a particular amount of goods or services."
There are four essential variables to sales incentives therefore:
The reward or rewards.
The individuals rewarded.
The target met or exceeded.
The product or service sold.
From cash dividends to Employee of the Month status, sales incentives take many forms, depending on the nature of the enterprise, and the factors which best motivate each employee.
Now let's ask a deeper question – what are sales incentives for? What good do they do?
The Benefits of Running Incentives for Sales Teams
Having an incentive programme conveys several benefits, including:
Inspiring team members to achieve better performance.
Rewarding reps who do hit their targets, improving morale.
Increasing competitiveness between team members.
Increasing team-building and social cohesion through friendly rivalry.
Building a team that new recruits are eager to join.
Supplementing basic salaries, improving employee wellbeing.
Although sales incentive schemes are beneficial in a host of ways, some consideration must be paid to what happens with underperforming reps.
A working environment which offers training or additional mentoring will usually outperform one which promotes a more "dog eat dog" attitude to sales performance. Ideally you want everyone to have their time at the top of that leaderboard!
We can divide incentive programmes into monetary and non-monetary ones. Let's look at the difference between these two approaches (which can of course be combined).
Money vs. Non-Money Sales Incentives
Opinions differ on whether monetary rewards are especially good motivators. In a discursive 2019 Forbes article, Christian Muntean of Vantage Consulting wrote, "money matters, but usually less than being shown appreciation, the opportunity to do meaningful and challenging work, enjoying relationships with peers, and respect for management or opportunities for personal growth."
While this may be true, it may be less true within sales teams, where reps are often motivated by their commissions as a matter of course. Such jobs attract individuals who enjoy the boost to their pay packet that great performance brings.
However, non-monetary incentives can prove more emotionally satisfying. When we feel appreciated, or as our status is raised within a group, human nature rewards us with a dopamine hit. Dopamine is the neurotransmitter that fires when we do something rewarding.
And as Muntean identified, employees can also be motivated by the following experiences:
Being appreciated by their superiors and peers.
Doing meaningful work that benefits others.
Enjoying good relationships with their peers.
Being offered the opportunity for betterment.
Working environments which promote these emotional benefits are intrinsically incentivising. Some of these experiences can also be offered within an explicit employee reward program too, as we shall see.
Let's look at 18 incentives you might employ within your sales team, divided into monetary and non-monetary rewards.
Money Sales Incentives
1: Bonus Payments
At the most basic level, you can offer a bonus program. For instance, you may offer a sliding scale of bonuses for the three best performing reps each month.
This gives everyone a chance to benefit, although it may result in some high achieving reps earning significantly more than their peers. Fine adjustments may be required to KPIs or reward amounts to ensure that a large earnings disparity does not develop, with accompanying envy from those less advantaged.
There's a fine line between reps aspiring to be like their superstar peers, and newbies beginning to resent colleagues consistently rewarded for their experience. Bonus schemes should be constructed with care.
2: Gift Cards
It may seem counter-intuitive, but gift cards can sometimes be better motivators than money, particularly when they can only be used for improving or pampering products like gyms, spas, luxury products, or holidays. Gift cards give permission to their winners to spend money on themselves.
Companies can forge partnerships with companies who offer employee gift programmes. This often means the company receives a significant discount on goods or services. The money spent on such programmes stretches further than it would if cash bonuses were given.
Companies like Open and GiftPay specialise in employee gift cards, and there's a huge variety on offer, so you'll always find something to suit each employee's tastes or interests.
3: Additional Holidays / Duvet Days
This can be thought of as a cash benefit because you're effectively paying an employee not to work for one day. Increased annual leave is a benefit often used in the public sector, such as the NHS, where employees are rewarded for long service with extra paid days off.
There's no reason why this can't be offered within the private sector too, and it can help to promote a culture of improved work-life balance.
However, this strategy may not work so well in sales teams where individuals rely upon their commissions, unless you offer paid holidays supported by compensatory cash bonuses.
A "duvet day" is discretionary leave offered to employees, who can decide to take an impromptu day off at will (so long as they give sufficient notice and there are no urgent workplace deadlines to hit).
Leave-based incentives may meet resistance within cultures that value a strong work ethic, but, as reported in The Happiness Index, studies have shown that annual leave is vital to employee mental health and performance. Therefore urging your team to make use of their leave allocation actually improves revenue in the long term.
4: Promotion
If you think of it, this is a type of cash incentive. If you have a hierarchical structure for your sales team, then you can explicitly tie performance to role enhancement, and therefore easily justify increasing an employee's income and responsibility.
When employees are advanced due to performance, rather than mere seniority or service length, it generally provides a better incentive. As a recent article in Financial Management put it, "a skills-based promotion model can ultimately be better for organisational productivity, as employees are encouraged to acquire new skills or hone existing ones, while the improved transparency that can come with it helps remove the danger of unconscious bias."
When promotion, and concomitant pay rises, are based on performance, then everyone knows that they can earn more by upping their game. Nobody can coast on mediocrity and seniority, secure in the knowledge that they'll gain promotion.
Non-Money Sales Incentives
5: Recognition
Perhaps it seems like a no-brainer, but employees love to be publicly recognised for their work, particularly in front of their peers. Unfortunately, this rarely happens. recognition can be made on both a day-to-day level, with managers being more actively encouraging.
It can also be formalised through an "employee of the week" or similar scheme, where one member of the team is highlighted for special recognition, perhaps including an intranet article, Slack channel posting, or sales platform news item.
Alternatively, a "wall of fame" can be a good way to recognise exceptional performance, whether virtual or literal.
There are several aspects which make recognition a winner. Firstly, it taps into something we all desire – the approval of our peers. Secondly, it can prove very cost-effective. Lastly, when tied to KPIs, reps can monitor their ongoing chances of winning this accolade.
If you have a leader board, you can show how well your top employees are doing, potentially with live updates. It may not be worth showing everyone's scores, especially if those at the lower end of the table require some intervention. Publicly displaying the lowest performers' results may disincentivise them.
6: Gym or Health Club Memberships
Club memberships are good because they reward employees by covering a significant expense they may have, while offering a beneficial experiential reward. With over 15 million Britons holding gym or health club memberships, such benefits often prove popular with employees (though not with all).
As well as benefiting the employee, of course, such memberships help build a healthier and happier workforce. This, however, should not be your primary aim.
7: Wine or Beer Club Memberships
Connoisseur club memberships are a way of offering an aspirational lifestyle benefit which is purely about enjoyment. Sometimes incentives which seem to have a secondary purpose (such as improving an employee's health) can seem a little self-serving for a company. By offering a benefit that's just about food or drink, an organisation can avoid such an association.
Memberships can be offered on a sliding scale: perhaps three, six or 12 months. However, there will be employees for whom this is not an appropriate gift option, so there should always be a range of consumption-based incentives to allow for non-drinking or allergy-suffering employees.
8: Social Nights or Days Out
When management pays for a social night, it's a great way of rewarding team performance, rather than focusing on an individual achievement. This will aid group cohesion and morale, while offering a fun diversion from work.
Don't confuse this reward with the kind of team building away-day that's more about improving work performance than rewarding it. Ideally there should be no mandatory work-related activities at such an event. No brainstorming or feedback sessions!
Make sure you have factored in your employees' ability levels and beliefs. Wine tastings and paintball sessions won't necessarily be accessible to everyone.
9: Tech Gadgets
Prizes like VR headsets, smartwatches and noise-cancelling headphones have a wow factor that extends beyond their monetary value. Offer a choice of gadgets or gift cards to a technology supplier and you can provide employees with something that's both fun and useful.
Laptops and tablets can even help your reps in their work, although that shouldn't be the primary reason for gifting them.
10: Fine Dining
Team lunches or dinners can be a great way to incentivize and bond your sales team. They don't necessarily need to be tied to performance either – such events can be a great end-of-quarter marker and help emphasise the generosity of an employer.
If you opt for this approach, you'll want to choose the sort of prestigious venue that reps wouldn't ordinarily choose due to the expense. And of course, you'll be footing the bill, so make sure you factor in all those aperitifs, desserts, and coffees!
11: Tickets to Exclusive Events
Hard-to-obtain concert tickets or sporting event seats are good, high prestige rewards. Think tickets for music tours, boxes at the opera or front row seats to see a Hollywood star in a West End show.
A lot of venues offer corporate deals, including catering for private boxes or rooms. The big advantage of such perks is availability – it takes a lot of time, effort, and luck to score tickets for sold-out shows. Even if the recipient isn't a fan of the artist or teams, they'll be able to gift the tickets to friends and family or attend for the kudos.
12: Travel Vouchers or Tickets
An alternative to offering time off, or fun away days, is to provide gift vouchers for nationwide hotel chains, or airline gift cards, which will encourage your team members to make the most of their annual leave.
This helps employees associate their workplace with memorable times spent with family or friends. Hopefully they'll return from their trip renewed and energised to succeed.
13: Subscription Boxes
In the last decade, there's been a major growth in subscription-based lifestyle products. Everything from deluxe shaving kits, dietary supplements and vegan meal boxes can now be delivered to your door.
You can help add a little ease or comfort to your favoured employees' lives, by offering to enrol them in such a scheme. It's a good idea to have a range of them on offer, so that you can tailor the subscription to your employees' interests.
These services can be reasonably inexpensive, when compared to some of the other items on this list, so they make good entry-level rewards.
14: Office Upgrades
At first, this may sound like another self-serving incentive that benefits the employer more than the employee. However, given how many hours committed reps put in, whether in the office, or on the road, offering items that improve their comfort and performance can prove very welcome.
Think standing desks, noise-cancelling headphones, additional monitors, laptops, and other items which both reward the winner and subtly remind their colleagues who's doing well in the team.
15: Streaming Service Subs
A simple way to reward your employees is to give them something that almost everyone will love – a subscription to a streaming platform of their choice! With so many streaming platforms to choose from, almost nobody can afford to subscribe to Netflix, Prime, Disney+, Apple TV and all the others.
This makes these subscriptions an ideal gift – something your employee will enjoy, that they might not otherwise have given themselves.
16: Badges and other Tokens
If you use an employee incentivisation platform, most such systems offer some form of goal-orientated badging. Reps can collect visual accolades for hitting certain milestones or KPIs.
These are small, but regular notes of recognition which can supply enough of that dopamine hit to keep an employee motivated during tricky patches. Perhaps it seems a little childlike to offer the workplace equivalent of a gold star or smiley face but if social media has proven anything, it is that we are all susceptible to such positive reinforcement!
It's also possible to combine these small tokens with greater recognition or concrete rewards. As a rep accrues "points", these contribute to their overall performance score, leaderboard position or eligibility for prizes.
17: Spin the Wheel
Some workplaces gamify the reward system by letting winners spin a wheel which conveys different rewards. If this fits the ethos of your office, then it can prove a lot of fun. The mystery of not knowing what you'll win adds to the excitement.
It helps if all the prizes are of roughly equal value, so that nobody feels too disappointed if they don't win their chosen reward.
Other forms of gamification exist, which can prove a form of incentivisation in themselves and platforms have developed to offer companies some of these.
18: Online Courses or Learning
It may not sound like much of a prize at first, but there has been an explosion of online course providers in recent decades. Companies like Coursera, Skillshare, or Masterclass offer opportunities to learn new skills or gain knowledge from the experts.
Everything from languages, to hobbies, to elite sales training is available. Employers can choose whether they offer work-oriented skills, or simply reward employees by giving them subscriptions to platforms carrying a wide range of topics.
Well-designed selling skills training that improve individual reps' performance will of course have the knock-on effect of enhancing their income even further through bonuses or other financial incentives.
The Takeaway
There are clearly more non-monetary ways to reward your high-performing reps than monetary ones. That's not to say that people don't appreciate cold, hard cash. In fact, the most common form of incentivisation remains cash bonuses or commission, offered by 48.8% of sales businesses.
However, the problem with money is that it tends to dissolve away into employees' bank accounts and is quickly discounted. By contrast, a gift, subscription, or award remains in view or in mind, reminding the employee how well they have done, and how appreciated they are.
After all, the point of incentives is to promote excellence, reward success, build loyalty and in turn drive your team's performance.
If you'd like to know more about motivating your employees, check out these other sales team motivation ideas, and don't forget to check out our Sales Manager Training and Account Management Training courses for more tips and strategies.
Happy Selling!
Sean

Sean McPheat
Managing Director