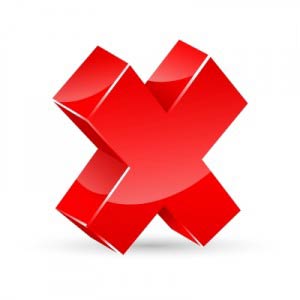 I teach a lot of "Best Practices" here at MTD Sales Training. However, every once in a while, it's time to explore some of those "Worst Practices."
You can do a few things at the end of the sales process that completely ruins everything. The prospecting process went perfect. One telephone call set the appointment and the sales interaction went exactly as planned. Finally, the prospect said, "Ok, let's do it!" Then, everything went awry. Below are three ways to pull-the-plug on a sale you closed.
#1 – Too Happy
Throughout the sales process, the sales person exhibited a pleasant and professional, yet serious demeanour. He was all business, and during the close, there was an obvious amount of tension in the air. Finally, the prospect agrees to buy and the sales person suddenly turns into someone who seems to have just hit the mega-world lottery!
You have to keep your cool after the prospect says yes. I have seen sales people start spending their commission before they finish writing up the order. Of course, there is a certain amount of relief involved, but you have to try not to show euphoria.
If you turn into a different person after the prospect agrees to buy, it will make the prospect feel as though your joy will come at their expense. Calm down.
#2 – Thank You—-Good-bye!
Another sure way to make the prospect begin to think twice about their decision is to rush out of the door or off the telephone as soon as you have a buying decision. You have to slow down and take your time. Some sales people are so afraid the prospect will change his or her mind that they are ready to run out of the door the instant they have a signature.
#3 – The Devil is in the Details
In combination with the above, many sales people rush through the paper work or other logistics involved in the closing the sale. The sale is not done, not closed and not actually sold, until you have dotted the I's and crossed the T's. Be careful not to run slip-shod with the details.
So remember to calm it down, slow it down and write it down!
Before I sign off, here are some more tips on becoming a great sales person:

Happy Selling!
Sean

Sean McPheat
Managing Director
MTD Sales Training | Image courtesy of Digital Art at FreeDigitalPhotos.net