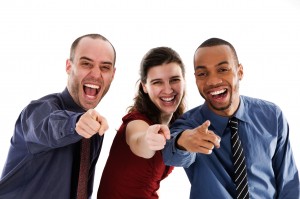 My team and I often discuss the skills of top salespeople and how we admire their abilities to turn difficult situations around.
We're always seeking best-practice ideas that helps customers to improve their results, or increase their profits.
The increasing pressure that top salespeople are under to achieve results makes it even more commendable that they are able to get such revered results.
Talk often turns to those situations that could constitute the direct opposite, that is, those customers who feel they are really good but either try too hard or don't have the business or intellectual acumen to achieve big success.
They barely scrape by and can bring the reputation of the career crashing down.
These people sometimes make themselves look really stupid in front of customers, and I list below some things that you must avoid, or you'll run the risk of looking a total prized idiot yourself:
Bluffing or faking an answer to a question the customer asks
If you're not found out immediately, it will probably come back to bite you later. Too many good product presentations have been veered off course by the salesperson trying to cover over some lack of knowledge and making up figures of exaggerating claims. If the customer's research then shows you up, you will look smaller than Mr Tiny from Small Street, Tinyville.
Instead say that you'll find the answer and get back to the customer immediately you find it. And do so! 
Saying 'You'll have to speak to someone else about that'
As in, 'That's a question for our technical team, you'll need to speak to them, I'm just in sales.'
It's much better to take the initiative, call the technical department yourself and be the conduit between them and the customer. Even though it may be a question you can't answer, still take the responsibility to help them find the answer, rather than throwing the responsibility over to the customer.
Disagreeing with a customer viewpoint in a defensive way
This can sound like a pantomime act, as you purport your products to be this, the customer says something opposite and then you say 'O, yes it is!'. It's crass and just gets their back up, so resist the temptation and just ask the customer why they feel the way the way they do. That way, you get a clear understanding, rather than a muffled viewpoint that may make you look foolish for disagreeing.
Demonstrating the product doing things that bear no relationship to the needs of the customer
I remember being presented with a double-glazing solution by a salesperson who gave me a canned, pre-planned, 20-minute monologue of his product before I had even told him that the solution wouldn't be of any use to me. If he's asked two or three sensible questions, he would have saved him and me the time and would have presented something entirely different.
Do not try presenting before you have diagnosed what the customer's concerns are.
Not checking your technology works!
Yes, incidents and accidents happen, but if your projector has a blown lamp, or your battery runs out on your laptop (and your charger is at the office), then you just look unprepared and unprofessional.
At least give your prospect the respect to check everything you're going to use beforehand. You would be amazed how many times we've been presented to by salespeople and something has gone wrong (including the dreaded bluescreen when the salesperson turned his computer on… and his reaction was 'O no, this always happens!).
You can't avoid it if things go wrong, but if a simple check or better preparation would have prevented it, then you just look dumb.
Let me know if you have looked stupid in front of a prospect, and we'll log them for a future blog.
Happy Selling!
Sean

Sean McPheat
Managing Director
MTD Sales Training | Image courtesy of Dollarphotoclub