One of the main questions I get from sales people is what to do when trapped under ineffective, negative, de-motivating or otherwise, bad sales management. Being a sales director myself, I hesitate to align myself with unfounded complaints about sales management. However, being, first and foremost, a sales person myself, I must address this issue.
Let's face it; there are some, unethical, under-trained sales people out there that often make things harder for all of us. However, if you know me, I never blame the sales person or the sales team. As far as I am concerned, if you are in a position of leadership of a sales team, then almost anything that happens is the responsibility of the sales management.
I believe even the individual failure or success of the sales person is ultimately the responsibility of the sales manager.
Yet, the sad fact is that often people in positions of sales leadership are those with little or no practical experience or understanding in the field for which they manage. If you happen to be one of those unfortunate sales people (who keep writing me) under the control of a slipshod, inexperienced, micro-managing, penny-pinching, self-serving sales manager, then the following three ideas will help you better manage your sales manager.
#1 – You Are Involved
The bad sales manager will usually have a fragile self-esteem and thus, have a need to be involved in everything and anything that happens to the point of hampering you from doing your job.
To handle this micro-management, try to keep the manager involved. Send an email, a text, say something as you move on to get done what you know you need to do. The key is to keep the micro-brain involved JUST enough so that he or she will FEEL involved enough to stay out of your way.
#2 – You Are Responsible
When you achieve success, the big sale; let the manager know that, in some way, he or she helped make it happen. Don't misunderstand me, I am not talking about lying or appeasement; it is the truth! (Just not the way he or she may think.)
#3 – I Thank You
As good sales person, you will eventually begin to demonstrate high levels of success and surpass sales goals. However, an egotistical sales manager will often view your accomplishments as a threat.
Find a way to thank the sales manager for the opportunity he or she gave you to enable you to reach such success. Once again, this is not misleading; it is true.
What's Good For the Goose…
As a good sales manager manages sales people, sometimes, good sales people need to manage the sales manager.
Happy Selling!
Sean

Sean McPheat
Managing Director
Sean McPheat MTD Sales Training
Have you downloaded my latest report "The Sales Person's Crisis"? Over 10,000 sales pros have.
Click on the image below to find out why your very existence as a sales person is in doubt…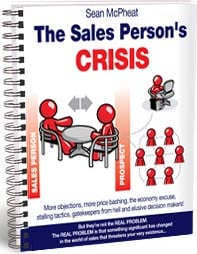 MTD Sales Training | Image courtesy of FreeDigitalPhotos.net