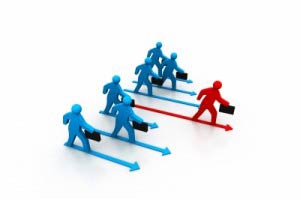 Jack Welch has been voted one of the most influential managers of the twentieth century, and the effects of his style is still being felt today.
He was the CEO of General Electric (GE) from 1982 till 2001. To start evaluating his managers, Jack implemented a system of measuring performance based on characteristics that 'graded' them against certain criteria.
The criteria he chose were interesting in that they were different from the normal distribution of measurements within business settings. They became known as the 4 'E' and 1 'P' concepts, and we can compare them now to ascertain whether they are still effective in today's critical sales world.
The first 'E' referred to 'Energy'. High personal energy displayed by the sales manager is vital if their team is to follow the example. The team follow the example set by the manager, and if the energy levels are low, the lethargy is shared among the team. You need to display a hard-working attitude, yes, but the visible energy exuded at the personal level is more important to help the team keep their motivation, spirit and drive at a high level.
The second 'E' is related to the fact that you need to 'Energise others'. Naturally, you can't do this if you don't show energy yourself, so it's imperative that you set the lead and example. This creates momentum for the effect of energising others to be put into place.
The third 'E' refers to what Welch called 'the Edge'. This was defined as the taking tough decisions without flinching, understanding what needed to be done and when. He recommended that, when decisions needed to be made, they were considered, determined and then acted upon. Managers who have the edge show their teams what need to be done and actively get on with them.
The fourth 'E' drove people to the top of the pile. Welch referred to it as 'Execution' and considered it to be the most important of the four, or at least the catalyst for the other three to be effective. It requires a manager to be proactive, identifying where things are going wrong and formulating plans before they have an impact on results. The Execution manager recognises how he or she should take ownership of the matter before they have to make excuses for failure.
And the 'P' stood for 'Passion'. Welch referred to having passion as the essential quality that kept the four 'E's working well. Without the drive, the motivation, the passion for excellence, managers fall at the first obstacle.
So, there you have the five key components that Welch stated were needed for top performing sales managers. I don't believe anything has changed since his day and recommened we all follow that advice.
Before I sign off, here are some more tips on becoming a great sales person:

Happy Selling!
Sean

Sean McPheat
Managing Director
MTD Sales Training | Image courtesy of renjith krishnan at FreeDigitalPhotos.net