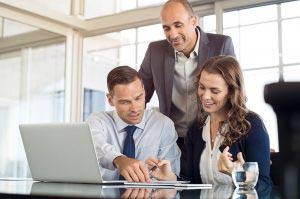 With all the advice and ideas available about how to manage and lead in difficult times, it can hard for a sales manager to know when to remain resilient and when to adapt to changes in circumstances.
If you've carried out a personality profile in the past, you'll know that some characteristics are good to
maintain, whereas other behaviour traits often need adapting for different people.
Here's our take on what should remain solid and what should be flexible in sales management terms:
Be solid on standards, flexible on rules
If your team see you wavering on standards, you risk losing respect. If you adhere too tightly to rules, you risk becoming too autocratic
Be solid on character, flexible on behaviour
Great managers know what characteristics are looked on as positive, and these need to be developed and enhanced. With that solidity behind you, you are more likely to be adaptable to others' behavioural traits.
Be solid on expectations, flexible on method
Create clarity with the team on what you expect from them, and let them become creative on how they can meet and exceed those expectations.
This is a very important factor that we cover in our Sales Management Training.
Be solid on rewards, flexible on means
Everyone needs to feel they are worthy, so the recognition needs to be clear and upfront. How you do this for each individual can be personalised to their motivational direction
Be solid on the destination, flexible on the journey
In turbulent times, people need a foundation on which to build their futures. If you can give them security on where the business plans to go in the future, then the journey can be adapted to the prevailing circumstances.
Learn when your team need you to be solid and when they want you to be flexible. It will give you the respect and encouragement to manage effectively.
Have a great selling day!
Sean

Sean McPheat
Managing Director