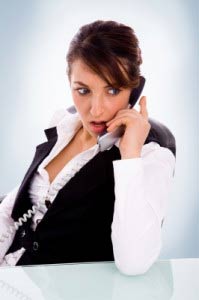 Cold calling is still an effective method of business development – if done correctly!
Too many sales people try to bulldozer their way to making appointments or try to wear down the prospect with heavy hitting hard sales tactics.
And this is wrong.
But how much persistence should you have on a cold call?
Should you just give up on the first "I'm not interested" response?
Well, the answer is no.
Remember a cold call is just that – it's cold.
You've got to qualify the prospect to see if there is a potential need. If there is no need then move onto someone who does have a need.
But sometimes you're faced with "I'm not interested" right off the bat – it's used to get you off the phone.
So what can you say to this response?
Here are my 2 favourite responses that I use and I get great results from them.
Try them for yourself and see how you get on.
STEAL MY SCRIPT #1
Prospect:
"I'm not interested"
You:
"I didn't think for one moment that you would be at this stage John, because you know nothing about how XYZ can [ENTER BENEFIT, SAVING, ETC) and that's what ABC product does. Just a quick question John do you…"
STEAL MY SCRIPT #2 
Prospect:
"I'm not interested" 
You:
"Ok John, not a problem. I can't stand receiving cold calls either so I don't blame you but this really will (enter benefit, savings, do this, do that) could I just give you a very quick 1minute no fluff overview of how ABC can help you and then if it's still no good for you you'll never hear from me again?"
60% of the time I get a "Oh, go on then"
So try them out for yourself. Make sure you say them with the right tonality are you'll be sunk.
Good luck and let me know how you get on
Happy Selling!
Sean

Sean McPheat
Managing Director
MTD Sales Training | Image courtesy of Imagerymajestic at FreeDigitalPhotos.net