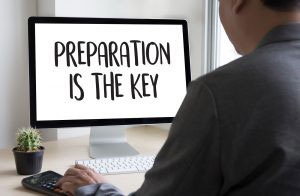 When we ask salespeople how they prepare for making sales calls, most say they might check the company's website and possibly check the contact's Linked-In profile, but that's about it, really.
This surprises us, as the quality of the preparation can make or break your opportunities with a new prospect.
Here are some tips that you might consider to make your preparation that much better and more successful.
Work Out Why This Particular Prospect Ended Up On Your List.
Could it be they have bought from you before?
Are they a new business in your area?
Have they branched out into new markets?
Has a new person joined them and needs help in finding new products?
Work out what made this prospect be on your cold calling list in the first place
Check Their Website
Yes, it's obvious, but what exactly should you check for?
Don't just read through the first page; click on the tabs.
Read about their history.
Check any offers they have on currently.
Check out any awards they have won.
Use this information to formulate questions that you can ask.
Determine how your product could be a great addition to what they already have and why.
Check the executive team's credentials.
Maybe you have something in common with one or more of them.
This will open even more doors for you.
Check Their Competitors' Websites
Find out why customers would use the competition rather than the company you are going to approach.
What do the competition have that your target company doesn't?
Would your products or services help the target company to be more competitive?
Use this information in your opening salvo on the call.
Look At Customer Reviews Of The Target Company
What people say about the company could be a good introduction for you.
It will also give you a picture of what users of their products think of them.
If there are common themes of dissatisfaction, maybe your services could help them out in some way.
Find Out About Your Contact Through LinkedIn
This again is obvious, but try to identify why the contact would be saying the things they are on their profile.
Remember, it's their own personal business website, so work out what would be something that you have that would make them look good if they used you.
Google The Person You Are Visiting
Their LinkedIn profile may come up near the top, but look for other sites they appear on.
Have they won awards in the past?
Have they published articles, blogs or the like?
By finding out more about the person, you get a good handle on their background before contacting them.
Form Questions That Will Get Them Thinking About Their Business And Results They Are Getting Presently
Remember, they will know that you are calling to try and sell them something, so make the call about them and their business.
The quality and depth of your questions will determine the interest you provoke, so be prepared with questions that make them think about their business
Google Yourself
The buyer may well google you as you call, or before meeting with you, so you should do so too.
What does your Google persona say about you?
What impression will that make on your prospect?
Be aware of what they may know about you and your company.
By preparing well, you put yourself in a strong position to increase the value of what you have to offer.
Does the above take time?
Of course it does, but would you rather spend five minutes researching the company and having a good chance of progressing, or doing no research and having no chance?
It's a no-brainer!
Please try out our Telesales Training for the latest tips and techniques and also our generic Sales Training to help take your selling game onto the next level.
Happy Selling!
Sean

Sean McPheat
Managing Director