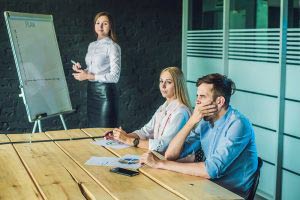 So you've found out what the client wants and listened to their many needs. You've asked the right questions and got to the main areas of concern. Now you're ready to present the solutions and convince the prospect you have the answer to his problems.
Great! Then how come your presentation sucks? How come the prospect who was champing at the bit not so long ago has suddenly glazed over and gone all limp and subdued? Could it be that the presentation you've just launched into is nothing more than a 'feature dump' with a smattering of 'service shots'?
A great presentation actually turns into a two-way conversation, with the prospect seeing the answer to his problems getting clearer and clearer. Each part of your presentation should be related to specific aspects of the prospect's business. Follow this checklist:
– Make each presentation personal and persuasive
– Make it an interactive, two-way conversation
– Blend the right amount of emotional appeal with intellectual reasons to buy
– Involve the prospect – speak about your product from their perspective, not yours
– Identify the specific buying motive, then tie your product to it
– Use the words your prospect uses, to match and mirror their thought process
– Tailor each presentation to the individual needs of the prospect
By doing all of the above, you create a very good reason for them to listen to you and make the right decision to buy from you. Make each presentation unique and specific, and you'll see your prospect quickly turn into a client. And that can only be good for business!
Happy selling!
Sean

Sean McPheat
Managing Director