We all know that when you buy a cheap solution, you are also losing something that paying extra would bring for you. But many people buy cheap because they don't see the worth of paying extra.
A friend of mine refuses to buy high-ticket brands because, as he puts it, 'paying for the name doesn't make people feel any different about me when I wear it'
So, what he's referring to is that he doesn't see the worth of paying £30 or £40 for a branded tee-shirt when we can get a perfectly good, cheaper one without the name on.
'Worth' is in the eyes of the buyer, and if that worth isn't built, the result will be one of 'it's not worth it to me'. I suppose that explains the success of L'oréal's catchphrase 'Because you're worth it!' on their adverts…they're trying to make you feel that you, personally, are worth paying more for yourself, and hence increasing your own worth.
John Rankin's quote comes to mind. Written over 150 years ago, it still sounds as if it could have been written yesterday: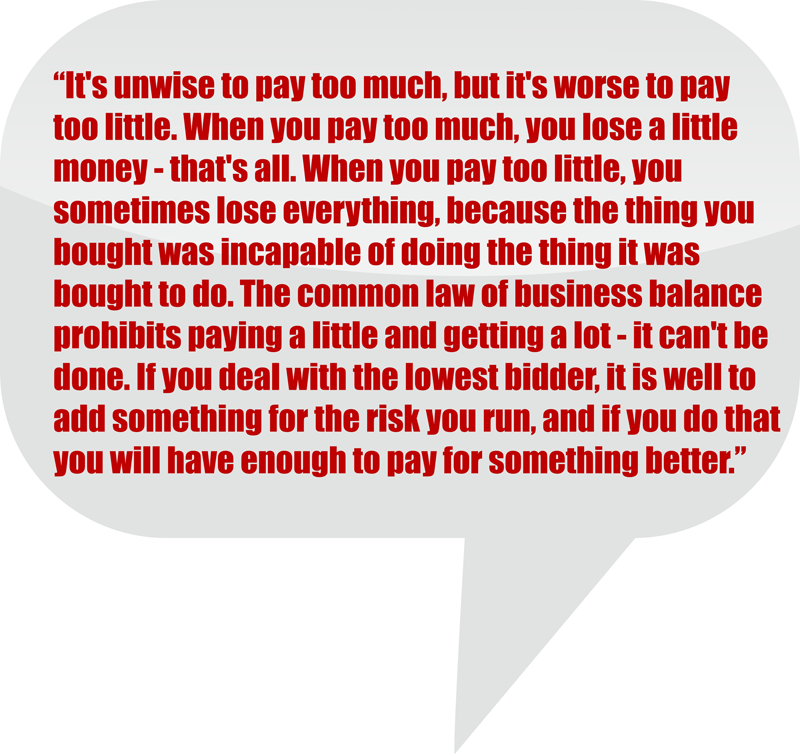 Sound advice. Today, we say that if you buy cheap, you also buy risk. The risk of the item not doing what you intended it to do; the risk of it failing more quickly; the risk of it not providing the results you intended.
Your customers, when they say they want the cheapest, often mean they want to see the best value in the product or service. Your questions have to revolve around what they see as the best solution for their situation. If that means the initial investment or the overall costs being higher than what they originally intended to pay, it should be clear to them what risks they are overcoming if they go with your solution.
A minimising of the risks may well be worth more than the extra costs. That should help them see they are getting good value.
Happy selling!
Sean

Sean McPheat
Managing Director
MTD Sales Training | Image courtesy of Dollarphotoclub