How To Overcome The Economy Objection – Video Blog
Posted on Have Your Say: Leave a comment?
Despite the fact that our economy is now growing and we are finally moving away from the dreaded "recession objection", many sales people are finding that they are still coming up against the economy objection during their sales interactions and are struggling to close the deal because of it. So how do you overcome the economy objection and close more sales? Watch our short video to find out.
Happy Selling!
Sean McPheat
Managing Director
MTD Sales Training
Have you downloaded my latest report "The Sales Person's Crisis"? Over 10,000 sales pros have. Click on the image below to find out why your very existence as a sales person is in doubt…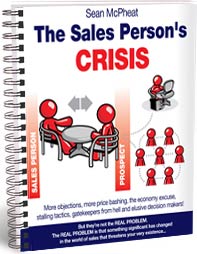 This entry was posted in Objection Handling and tagged economy objections, overcoming economy objections, overcoming objections. Bookmark the permalink.