Overcoming Price Objections – Infographic
Posted on Have Your Say: Leave a comment?
Time and time again sales people come up against price objections and too often they are not able to overcome these objections to close the sale. So how do you overcome price objections? Take a look at our short infographic on overcoming price objections and make sure you know how to handle this type of objection whenever this situation may arise.

Happy selling!
Sean McPheat
Managing Director
MTD Sales Training
(Image by MTD Sales Training – please give attribution to MTD Sales Training if republished)
Have you downloaded my latest report "The Sales Person's Crisis"? Over 10,000 sales pros have. Click on the image below to find out why your very existence as a sales person is in doubt…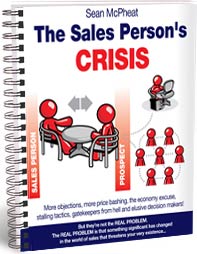 This entry was posted in Infographics and tagged overcoming objections, overcoming price objections, price objections. Bookmark the permalink.