The Sales Person's Crisis
"You're just SECONDS AWAY from what could be the sales improvement and business development breakthrough of your sales career…"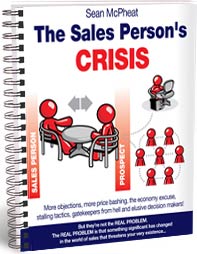 More objections, more price bashing, the economy excuse, stalling tactics, gatekeepers from hell and elusive decision makers!
Those are just some of the problems that you're currently facing as a sales person.
BUT THEY'RE NOT THE REAL PROBLEM
The REAL PROBLEM is that something significant has changed in the world of sales that threatens your very existence…
……but that's only if you have not identified what the problem actually is and have a strategy to deal with it!
Now you can find out what that problem really is…

Sean McPheat is the UK's #1 Authority On Modern Day Selling. Sean and his team have trained over 250,000 sales people from 9,000+ organisations worldwide.
Sean is the undisputed heavyweight champion of the world when it comes to understanding existing and future trends in the world of sales.
Just enter your details below to download THE SALES PERSON'S CRISIS right now and benefit from Sean's research and study in this area from the past 6 months. It won't cost you a penny.
Get The Sales Person's Crisis
FREE RIGHT NOW – TODAY!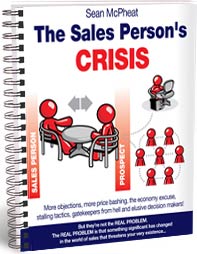 Yes! – Send me the report
(instant download)
We respect your trust and privacy and we will NEVER share your email address with anyone at any time