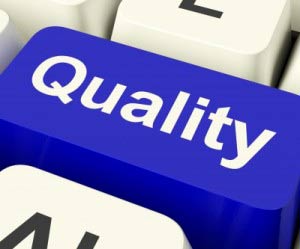 As a sales manager, you probably have the responsibility of manning your company's exhibition stand.
But like most sales managers I have met with over the years, it's unlikely that you have received any formal training on how to manage your sales team at an exhibition and get high quality leads.
One of the main challenges for anybody manning an exhibition stand is qualifying the suitability or potential of a visitor. It's not like your typical face to face customer or supplier meeting where the pre qualification has already taken place.
So in order for you to maximise your exhibiting potential I have put together a few tips that might help you qualify your leads and improve your team's performance.
1. Gather and share your exhibition objectives with your team prior to the show.
2. Identify the profile of your typical customer using job titles, purchasing authority, size and nature of company or location.
3. Explain ways to identify these types of prospects so your team can pick them out from the crowd.
4. Look at using open questioning techniques to help confirm that the visitor fits this profile, and as a way to assist in the initial introduction.
5. Produce a VIP list of visitors that you would personally like to meet. Perhaps call it your "Top 20 dream client wish list".
6. Ensure that your stand is manned by your most personable staff. There is no point sending people that don't want to be there. The people manning the stand should be the best communicators, who enjoy face to face conversations and are good with people.
7. Identify reasons why customers might want to switch suppliers and reinforce those messages in your graphics and in your conversations.
8. Think about the questions that you are likely to be asked by your prospects and make sure that your team knows the answers.
9. Regularly monitor your teams performance to see who is having the most success and why.
10. Share best practice and encourage those that have less success, experience or confidence.
11. Encourage activity by offering incentives for achieving objectives.
12. Agree on a method for accurately recording  your lead information and regularly check to make sure that your system is being followed
13. Think about what follow up action you are going to take so that your team and your prospects are clear as to what is going to happen after the show.
14. Ensure that all leads are followed up after the show according to the agreed actions and timelines.
By following all, or at least some of these tips should help you justify exhibiting and be an eye opener as to how successful it can be to attend shows to raise awareness of your product and brand, and most of all, generate those all important leads!
If you'd like training in this then our Exhibition Sales Training solutions can help you.
Happy Exhibiting!
Guest blog by Peter Bowen, CEO at www.accessdisplays.co.uk
MTD Sales Training | Image courtesy of Stuart Miles at FreeDigitalPhotos.net