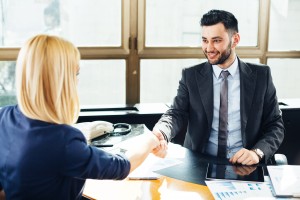 This is a guest blog written by Stephanie Earle from Simply Sales Jobs
Job interviews are often a nerve-wracking prospect, especially if it's a job you'd really love! Don't be daunted by the prospect, as a salesperson you're in the perfect position to smash it – just treat your interview as a sales pitch.
1. Do Your Research 
You wouldn't make a sales call without doing a bit of digging about the company, and a job interview is no different. Check out the company's website, but also their social media pages, to get a feel for how they operate. It's also a good idea to search for your interviewer on LinkedIn, so you can get an early understanding of exactly who you're going to be meeting, and prepare yourself accordingly.
2. Build Rapport 
If you can start building a strong working relationship from the start of the interview, you're helping to show what you'll be like to work with day-to-day. It's all very well telling your interview panel that you're great at building rapport – but you have the chance to actually do it! It's far more convincing to an interviewer that you can do it if you prove it to them there on the spot.
3. Add Value 
A great way to demonstrate your sales skills is to show the value you will bring to their company. There are likely to be plenty of other candidates with similar experience levels – so what's the added value that only you can bring? Perhaps you have relevant business contacts that you can convert to customers for your prospective employer. Maybe you've noticed no-one in the company is using social selling techniques, which is an area you could help the whole team with. It could be anything. Just be honest – don't make promises you can't keep!
4. Make It Memorable 
Busy sales managers and will conduct many interviews, often in a short space of time. So, you need to make yourself memorable, and a great way to do so is using anecdotes. Try to give as many real-life examples of your skills and achievements as you can, and if they have an amusing or interesting story to go with them, then all the better! It just helps your name stand out when they're reviewing all the candidates.
5. Ask For The Job 
Many closing techniques are perfect for the ending of your job interview. Asking a question such as 'are there any skills that I can demonstrate in order to prove my ability to do this job?' shows that you firmly believe you have everything they need – you just need to know what's important to them.
A sales job interview is just a pitch, so use it as a chance to show off all your skills. If the interviewer can see that you can sell yourself, you should have no problem selling their products!
Remember, if you're looking for the next step in your sales career, we can help.
Sean

Sean McPheat
Managing Director
MTD Sales Training | Image courtesy of Dollarphotoclub