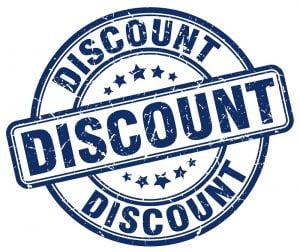 One of our trainers is looking for a new car for September delivery and he shared with me his experience at his local dealership. I thought I'd share his story with you…
"I had settled on a new model, agreed the spec and was ready to negotiate the price downwards with the salesman. I teach this stuff, so it should be a doddle, I thought.
I asked what was the best price he could offer on this model. He looked at the price list, then at the car, then at his manager. I thought he was going to try the old 'let me talk to my manager' ploy, but instead he asked me 'What price do you have in mind?'
'Goody', I thought. 'I can name my own price!'
I knocked £1500 off the sticker price, more than 10%.
He then asked me 'Do you care how I get you there?'
This made me think for a few moments, because if I said no, I knew what he would do. If I said yes, he would have asked me what the conditions would have to be to get to the target price.
As price was my main issue (as it is with many discount shoppers) I answered the question with a 'no'.
This opened the door for the salesman to look at alternative ways to get to my target price.
He asked 'Is it the fact that you don't want to pay the asking price at all, or you don't want to pay it for this car?'
Cue another few moments of thought-filled silence! I answered that I wanted this car, but wanted the discounted price.
'OK', he said, 'let me see how we can get to that price for you'.
He then proceeded to go over the value to me and my family of the choice I had made. I was actually feeling that it was worthy of close to the asking price…I was even feeling a bit cheeky asking for that much off.
He said he could get to the asking price for me, though I would have to go for flat paint instead of metallic, knock off the three year warranty that had been included in the price, take out some of the accessories he had persuaded me I needed, and take his dealer's finance package, which was 2.9% per annum more expensive than my bank's deal.
What did this poor old buyer do in the end? Accepted a £500 discount and got my metallic paint, a two-year warranty and accessories back!
Yes, yes, I know…but I had fallen in love with the car, and my emotions won out in the end.
I also asked if he had been on any training courses recently! He told me he was the number one salesperson in his dealership on revenue and profitability, and he also had attended most training courses out of all his colleagues in the past two years.
Naturally, I wasn't surprised"
Interesting! Maybe that question 'what price do you have in mind?' isn't the best in all situations but it gives you an idea of what you have to move to if you have some margin available.
The other question, "Do you care how I get you there?" gets the customer to consider what's most important to them. If, like our trainer, you say that the target price is most important, you can see if there's anything you can do to get to that price.
What you're basically saying is that, if the price is the only criteria that's stopping the client from buying, moving the specification, warranty, payment terms, credit facilities, service back-up or other additions can help you get closer to that price.
And if they balk at that, maybe the price isn't the most important aspect of the purchase after all.
Makes you think, doesn't it?
Oh, and our trainer has been ribbed all week in the office!
Happy selling!
Sean

Sean McPheat
Managing Director