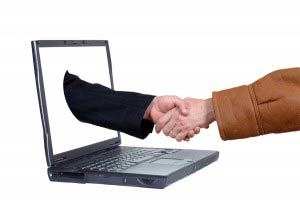 Earlier this week we brought you the first installment of my Q&A Session with Mark Jones who is Head of Learning & Development at MeetingZone Ltd.
MeetingZone specialise in unified communications, web conferencing, webinars and conference calls – and I met with Mark to discuss how these methods can help the average sales person save time and close more sales.
Sean: So how do you increase audience engagement, which is key when talking with prospects and clients – and how can virtual meetings and virtual presentations achieve this?
Mark: This really comes down to a number of key points.  I will outline these below, but owing to the detail and complexity that each possess I will hone in on the main points only.
The biggest reasons why demonstrating products and services fail is down to several important elements:
– The Message – poorly thought out, not logical and too much information
– The Deck / Presentation – poorly designed too wordy and lacks impact.
– The Delivery – monotonic voices that lack inspiration, belief or passion
– A lack of understanding about the features and functions of the meeting tool being used.  WebEx, Google Hangout, Fuze etc…
The Message
When designing a message to engage your audience you must take the perspective of what does the customer need / want to know in order to make a buying decision, namely:
The product? What is it for? What does it do? What are its benefits?
What pain or problem will it solve for me? What is the value to me and my organisation?
What is the cost? And here I don't just mean the bottom line. I am also referring to the cost to the company regarding resources.  How many IT people, project managers, and support people will I need to implement it. 
Does the person I am speaking with fill me with a sense of belief?  Namely, is this person filling me with confidence that this company can really deliver what I am asking for.
Having observed this on so many occasions, if the answer to any of the above questions is in doubt by the customer, the chances are you won't get the sale.  This is why the structure, its relevance to the audience and the language used is so vitally important.
What about the Deck / Presentation
For many of us PowerPoint is both a blessing and a curse.
On average 30 Million PowerPoint presentations are created daily.  What I find startling about this figure is not the size of it, but the fact that this number was the daily average 13 years ago.  So what is it now?  To be honest nobody knows.  I certainly don't but of those 30million and there are going to be good presentations and bad presentation.
So what is a bad presentation? A bad presentation, is filled with worthless and meaningless C.L.I.P.A.R.T (Crass Little Inserted Pictures Always Rubbish and Trite).  Are filled with bullets, are dull and boring lack personality and deliver far too much information.
Sean: So what is your idea of a good presentation?
Mark: Good presentations are incredibly visual, and use what is known as Visual Cognitive Dissonance or VCD. Visual because the content is highly relevant to the audience and visually tells a story to a point, cognitive because each slide makes no sense until the speaker or presenter narrates over the top of it, and dissonance relates to the intrigue surrounding the message or story that the slide tells you which initially is incomplete, hence you feel the need to know more.
Add to this the correct language, presentation style, animations and relevant message and you've got the makings of a first class presentation that engages the audience and closes deals.
The Delivery
I wrote a blog 6 months ago now, called "Love What You Do and Do What You Love."
In this article I speak of asking the right questions and seeking the right answers.  Presenting to an audience on a product or service that you either have faith in or believe in, will speak volumes in a very short space of time, in as little as 30 – 40 seconds in fact.  Your opening statement in an online meeting has to show confidence, belief and credibility.  If it doesn't you will for the remainder of that meeting or presentation be on the back foot and fighting a losing battle.
So if you are delivering a presentation using an online tool, go in with a script.  I write scripts for many of MeetingZones customers and each contains a certain level of consistency.  However, delivering it in this scripted style, every time not only grabs the audiences' attention, but it tells the audience that what they are about to hear has been thought through, considered and planned meticulously.
Planning, preparation, as well as rehearsal, mean everything.  You have to know what is coming next in your presentation upon every single click and yes, on occasion people lose their way.  So, here are some useful tips to help you:
1. If for any reason you plan on using multimedia, make sure that it is rewound and cued up ready to go.  If the file is large it is probably best to run it from a DVD rather than to wait for the data to buffer. If this is a face to face presentation.  If you are streaming the content across the web this requires a little more thought and consideration.
2. When working with figures don't use specifics 76.4% is roughly ¾ so use this instead.
3. If you forget what you are going to say, as this does happen more frequently than you think, simply advance to the next slide.  Nobody need know and the flow will be sustained.
4. If for any reason the slide that you put on screen makes perfect sense to the audience you will probably need to consider one of the following options post presentation:
– Build it slowly in a different way
– Change it / redesign it
– Delete it.
5. Rehearse your presentation to the point that you know what is going to happen and when upon every click of your mouse button or remote.
6. As and when necessary use the power of the 'Pause' to best effect.  When people feel an awkward silence they often feel compelled to fill it with nonsense.  Instead use it to your advantage.
7. Whatever happens do not apologise.  It undermines the work and effort that you have put into your presentation.
8. Never criticise your own presentation.  I recall attending a major law firm webinar recently where the guest presenter opened with, "Sorry about the quality of the slides I just threw something together over the weekend".  I call this the 'blame syndrome' this is incredibly unprofessional and sets a very clear expectation to the audience that very little effort has been made.  It also gives the impression that you do not care about your audience or possibly your role in your company.
9. If talking about money or earnings off topic, changing the frame of reference can sometimes sound more appealing e.g.  Saying £2.4m per annum says £200k each and every month.
10. If you use figures at any point during your presentation never, under any circumstances contradict them.  Make sure that all figures are consistent from start to finish.
11. In any presentation situation make sure you always have a backup plan in the event of something going wrong.  Laptop fails (take two with you), remote fails (take spare batteries)
12. The topic of hand-outs is somewhat controversial.  As a presenter myself, I want to manipulate the message and my audience to best effect.  This is harder to do if you print out the entire presentation ahead of the event.  So use them only as an afterthought to support your audiences' ability to recall your presentation.
13. Whether you host a presentation face to face or online, always debrief or conduct a survey so that you can tweak your presentation and become better and better.  Alter the content, make changes but always strive to perfect it.  Presentations are an art and a science.
A Lack of Product Understanding About The Tool Being Used & Its Features
One of the key differentiators for any individual presenting is knowing the message you wish to convey and how you are going to use the features and functions within the chosen tool Cisco WebEx EventCenter™ or Google Hangout for example, to best effect in order to convey it.  Do I wish to capture feedback from the audience using Chat?  Do I want to use Q&A? Do I want to use specifically designed slides that promote interaction?  Do I want to use video?   Do I want to share my screen, an application or document?
At MeetingZone we offer training to all clients free of charge.  The support collateral, presentations and other content I have designed, is branded to the requirements of each and every customer through the use of specifically designed templates.  This not only aids our success but our customers as well.  We have been hugely successful and services such as this have enabled us to go from being number 54 in Cisco's Partner list to number 4 in just 18 months.
So, knowing your product inside and out is so important to the delivery of a smooth and compelling presentation.  When engaging with customers on this topic I help them to become the best that they can be, as poor experiences will hinder not just our client's brand but our brand too.
When you understand all of the core controls, as a presenter, your levels of both comfort and confidence will grow exponentially.  It's important however, to set yourself a reasonable timeline to learn these new skills.  Don't try to rush it.  These skills are not something that you simply pick up overnight they will require some time and effort.
Presenting is an art.  Presenting online is a science, by that I refer to the fact that it requires a certain approach and methodology because of all of the elements involved.  There is no set formula and if there is then I would recommend.
E = M C ­­2    Where E (Efficiency) is equal to Meetings * Conferencing Squared.
The more of them that you host the better you become.
This Q&A was held with Mark Jones from MeetingZone. He is more than happy for you to get in touch to discuss any aspect he has covered above or in Part One and you can connect with him on LinkedIn here