I had a very interesting conversation with one of my clients this week.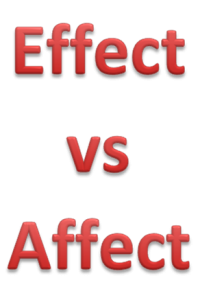 We had trained many of his sales people, and he wanted more development for a select few of his team who had been with the company for a relatively long time, but had plateaued in their performance and their results. He said he wanted this band of sales guys to be more effective in their sales conversations.
I asked him to be more precise. His comments showed me that his ideas weren't going far enough.
By being more effective, he said he wanted them to achieve more sales and get better results. I replied that the only way he would achieve that is if his team concentrated less on effectiveness and put more emphasis on affectiveness.
'What's the difference?' he asked. And I hear you asking the same thing.
Effective can be defined as successfully achieving the result that you want. Affective includes appealing to the emotions of the prospect and puts the emphasis on 'doing'. It's an active verb that conveys the feeling of drive, motion, energy. When you affect someone or something, you proactively influence the decisions they make. The result is the 'effect' that you have on the company or individual.
So if you think of what you can do to 'affect' people's decisions, it gives you and your prospect strong motivation to make changes. If you emphasise what the differences will be if they take your advice, you build a great deal of trust and get them to listen to you, because they see the results they will achieve.
The end result is that you become effective. But affective comes first. Think of it like a strong wind blowing in from the north. It affects the temperature at any given time. The effects are felt later on the ground, the results being frost or snow or ice.
So, just like I discussed with my client, by putting the focus on affecting the prospect's decision-making criteria, you get them to see the end result before they start. Their thought processes are affected by what you say and do, and the end effects are the results of listening to your ideas.
This change in emphasis made my client think about what his sales team needs to do to induce action out of their prospects, and we will be putting a programme together that will have an affect on their techniques, so they will get effective results!
Happy Selling!
Sean

Sean McPheat
Managing Director