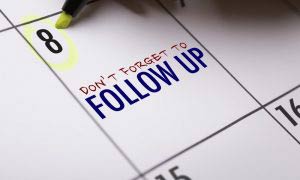 One of our trainers asked delegates on a recent open sales course, when was the sale actually completed and finished?
All the delegates volunteered that it was when the prospect said 'yes' to the sale. This was termed the 'close', and we could heave a big sigh of relief and tick another one off our checklist.
However, I came across an interesting definition the other day during some research. I looked up the phrase 'follow-through' and it was defined as "the act of continuing an task to completion, to its natural end".
According to this thought, the 'close' is not the 'natural' end of the sale. Especially if you're looking for repeat business.
One delegate was asked how he follows through with customers who have bought. He said that he logs their buying cycle and diarises a call-back three months before they are ready to buy again. Mmmm!
Well, for most salespeople, selling requires constant cultivation in order to keep the relationship growing.
Ask, "What actions can I take to strengthen this connection and move towards a natural end, or the next natural level?"
Follow-through is what you do to build the strongest, long-lasting relationship with your client. Think about these ideas:
After gaining agreement, follow-up with a letter to confirm the arrangements. Send a hand-written, personal thank-you note to your client (which of your competitors would do that?). Send articles of personal and professional interest to your client. Ensure all deliveries and service agreements are delivered on time. Find out the best way your new customer wants to be contacted.
The benefits of effective follow-through are:
* You can provide additional information as and when it's needed
* You can discover steps to assist in your customer's business growth
* You can differentiate yourself from the competition
* You can build trust in the long-term, so when the time comes for renewing the contract or changing for something new, you are first on their mind.
By following-through, you go beyond expectations and help the customer see they made a great decision in choosing you. And that can only be good for business!
Happy Selling!
Sean

Sean McPheat
Managing Director