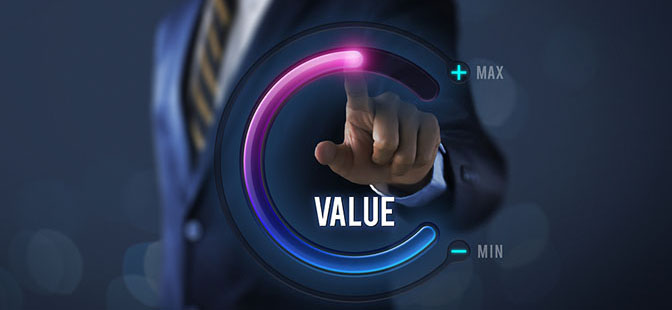 How do you increase value?
You may think it's by improving your product quality or better pricing strategies or better terms to customers.
Instead, your real value lies in developing your overall sales skills, so you help your clients to improve their business over time.
Value can be seen as your overall worth to the marketplace and it's how you increase and improve that value that will see you improve and build your reputation with current and future clients.
What skillsets and qualities will set you apart from the rest? Here are five skills and five qualities that we believe will put you in good stead for the decade ahead:
Skillsets:
1) An agile mindset
Agility can be defined as 'the power to move quickly and easily'. With an agile mindset, a person is able to respond quicker to situations and challenges that come their way. How do we define an agile mindset?
Leanne Howard, an Agile Practices Consultant, defines five components that make an agile mindset:
• Positive attitude
• Thirst for knowledge
• Goal of team success
• Pragmatism
• Willingness to fail
Each of these gives us the versatility to adjust to whatever happens. Responding, rather than reacting, is a key component of agility – it enables us to think through what we have to accomplish and respond effectively to those circumstances.
2) Collaboration with partners
These partners could be other companies you can work with to create better versions of what you have now, or different companies that help you to generate better business models for them to progress and benefit from.
Collaboration enables you to think at different levels, while offering products and services that will help you customers achieve now and in the future. Collaboration means that you get better results for your clients over time.
3) Ability to enhance the customer experience
If you sell B2B, your primary concern has to be the overall benefits you bring to your customer base. They don't buy your products…they buy what your products will do for their businesses in the future.
The experience your customer has starts from when they are looking for a solution through to utilising your products or services, and everything in between. If the overall experience is enhanced by you, your skills and your support, you have won the game versus your competitors who are concentrating on the products they can sell.
4) Social Media expert
We still meet salespeople on our programmes who lack the ability to become known in their industry as an influencer, someone who is an inspiration and makes an impact on their customers' businesses.
One big way that you can do this is by developing social media skills that encourage customers to rely on you and see you as an expert.
Without the ability to be recognised as a key player at the social level, you run the risk of working incognito, and this cannot help you develop your overall sales skills in the long term. In effect, you will be earning money for the products you sell, not the worth you generate.
On all of courses now we are combining social selling approaches with traditional face to face and telephone methods. You won't attend a Telesales Training programme for example without it having a module related to how social and the telephone can create a powerful combination together when prospecting.
5) Continuous improvement and learning
You need a sense of growth in everything you do. When you develop your skills over time, you become a more valuable person in sales and in general.
It requires you to make time to improve and invest in your future career. Only then will you see rewards for the time you put into your work. If you think that the road paved with gold with miraculously build itself for you, you'll be sorely disappointed. The only time success comes before work is in the dictionary.
Those five skills will certainly help. Here are five qualities that will help even more:
Qualities:
1) Curiosity
This quality allows you to ask the better and deeper questions, to become the source of knowledge and wisdom and highlight the ways a company to improve their marketplace presence.
Curiosity reduces the tendency to judge and builds an attitude of inquisitiveness rather than one of criticism. It makes you want to dig deeper and find out the reason 'why'.
Instead of simply condemning a decision that a prospect makes, a curious salesperson will develop a keen eye and keep a watch on what would make someone change their mind or create opportunities for growth. A curious mindset is a great quality to engender and develop.
2) Become embedded in the customer's company
This quality is one that will drive the future changes of sales as we know it. Instead of being employed by one company and having a 'job', the future salesperson will develop business with lots of companies and become an 'agent of change'.
You'll need to become so valuable that buyers will see you as a valuable asset to their company and you will work on many projects from within companies, rather than being on the outside looking in.
3) A master of change and risk
The only constant in sales will be change, so you need to develop the mastery of dealing with change and its incumbent results. Only by seeing this as a quality you simply have to master will you become a valuable asset to your company and your customers.
4) Collaboration within and without the company
This entails being the kind of salesperson who is in contact at multiple levels within their own business and that of their clients. Having a business relationship with just one person within a company will not work effectively as business cut back and revolutionise the way they work with suppliers.
The quality of collaboration can be built over time, but requires an attitude of partnership and alliance at all levels of the business. Gone are the days when the salesperson could act as the go-between at all levels; you simply won't have the time or energy in future business to be the one-size-fits-all solution. You will have to collaborate and partner with others within your company and the customer's company to add extra value.
5) A real-time communicator
This quality will enhance your overall value to your customer base. A salesperson's value for a client will include the ability to provide timely, pertinent information, and also to manage the inflow in order to make it controllable and most efficient for the client.
Your CRM system has to help, not hinder, this process. Your ability to quickly connect with your customers to advise on new technologies, new industry events and news that will help their business. You become a real asset when you do this.
Those ten skills and qualities will help you become someone who will be welcome in your clients' businesses.
If you're looking to take your game to the next level try our 2-day Sales Skills Training course. It will cover the concepts learned in this blog in greater detail and in turn will help you to close more sales.
Happy Selling!
Sean

Sean McPheat
Managing Director
MTD Sales Training | Image courtesy of Big Stock Photo