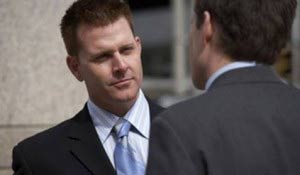 With the advent of the Internet and numerous sites like CareerBuilder and LinkedIn, job searching has become largely electronic. Yet hiring a sales team, especially those who will become long-term loyal assets to your firm, remains a difficult task.
However, with all of our advanced technology, word-of-mouth is still a powerful and effective tool, not only in selling, but in recruiting sales people as well.   When sales people are doing well, making good money and happy in their position, it seems natural that they would tell their friends.   Nevertheless, it does not happen automatically.
Our Sales Management Training will provide you with some proven hiring tips and below are a few thoughts to help you focus more on personal recruiting to build your sales team.
Winners Associate with Other Winners
Top sales producers usually have friends who possess like qualities.  As the old adage says, "Birds of a feather flock together." Chances are your best sales person knows people who are as enthusiastic, hard working and determined as he or she is, and in this economy, the odds that one of those people is looking for a new opportunity are good.
Offer Personal Recruiting Incentives
Offer some incentives for those who refer other sales people for a position with your firm.  Perhaps you give some small inducement for those who submit a qualified resume.  Then, more for those who interview, and even more for those who sign on.  Then you can offer an additional reward for those who refer sales people that you hire and that attain some basic level of performance.
Monthly or Quarterly Recruitment Lunch
Have a regularly scheduled recruitment luncheon or outing, in where members of the sales team invite friends and relatives they feel may have the qualifications and interest to join your firm.
Sales Help Wanted Advertising
In constructing your next ad to hire sales people, get some input from your sales team.  Ask your sales people what type of ad would attract them and people like them.  This will also help sales people to begin thinking about people they know who may be likely candidates for the job.
Help your sales people spread the word to grow their team.  You will build a stronger, more loyal sales force and save some advertising money as well.
Using a Sales Assessment can help you during the sales hiring process so you can ensure that your prospective salespeople have the right level of selling skills that you desire and also the right levels of motivation.
Visit our Sales Training Courses for a range of different programmes that can help to take your game onto the next level.
Happy Selling!
Sean

Sean McPheat
Managing Director
MTD Sales Training | Image courtesy of FreeDigitalPhotos.net