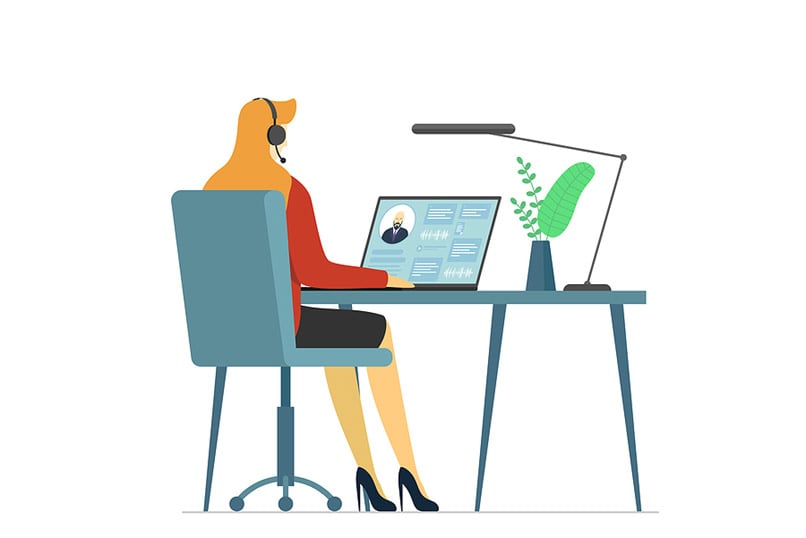 Sometimes, even the words 'cold call' can send shivers down salespeople's' spines.
The very thought of picking up the phone or writing an email to a prospect who has never heard of you or knows little about your products can be so daunting to a sales professional that they spend hours doing other things so that the inevitable rejection doesn't have to be faced.
But, if it's done in the correct way with the correct prospects, making a call to a prospect can be one of the best ways to build you sales confidence, increase your pipeline and open up sales opportunities.
You just have to prepare yourself well and see it as another string to your selling bow.
Our Telesales Training will help you to prepare effectively but if you're looking for something to help you right now then here are ten ways to prepare for your first cold call to a possible prospect:
1) Understand what a 'cold call' should be
Gone are the days when you should buy a list of possible prospects, start at the top of the list, pick up the phone and dial.
A cold call these days will be rejected by savvy buyers who don't have the need or the interest to spend time being interrupted from their busy day to discuss why they should buy your product.
Buyers have all the information they need about solutions at their fingertips, so don't believe that you have to call cold.
Instead, today's cold call should be to an established warm lead.
This is a person who you know a little bit about and you uncover exactly what their needs are before calling.
That brings us onto….
2) Do your prospecting professionally
Prospecting is a goldmine for selling.
Without it, you are better off simply using a pin and a map to decide who to call.
Prospecting today should consist of quality researching, building up a database of people and companies who you know will be interested in your solutions because you have uncovered needs and wants. You need to qualify for M.A.N – Money, authority and need.
3) Identify your ideal clients
Not everyone will be a good prospect for you.
Some companies will crop up on your research list but will not be in the right location, or their future needs won't match your ability to provide solutions.
These are known as suspects, not prospects.
There may be a time in the future when circumstances change so they become prospects, but spend your time instead looking for companies who would be ripe for your services.
Your ideal clients are those who have a specific need for services they can't provide themselves and who have pains that your products will deal with.
4) Get yourself in the right frame of mind
Starting your sales calls when you're at your desk, at the right time for you and when you've done all necessary research won't mean you'll succeed.
Your mindset must be solid, and solution focused.
Adequate preparation will certainly help you in gaining confidence in making any calls.
It's the foundation for ensuring you can build your ability to sound strong and positive.
Your mindset should encourage you to see the benefits of your products to the prospect and give you the attitude of helpfulness.
Remember, you're not pitching your product at this point; you're introducing the prospect to the idea of talking to you about your products.
5) Write notes on what you want to say
We don't advocate a full script, because your conversation will never follow a specific line of reasoning.
The prospect may say something that throws you off-guard and if you are stuck to a script, your mind may go blank when they ask you a question you hadn't prepared for.
Instead, work from some notes that will remind you what your main points are and what you're trying to achieve.
This will give you the confidence you need without keeping you restricted to certain words.
6) Be clear on what you want to achieve
Is it an appointment for yourself or someone else in your team with a decision-maker?
Is it to highlight a particular campaign you're running?
Are you introducing a new product and want the prospect to become aware of it?
Are you wanting an order there and then?
Be absolutely clear on what your objective for the call is.
Without that clarity, you run the risk of losing your way if objections are raised, or losing your confidence when the prospect seems to lose interest.
7) Plan for what to say if you meet a gatekeeper
A gatekeeper's role is to ensure the decision-maker's time isn't wasted on calls of little or no value.
Instead of trying to overcome the gatekeeper, plan on how you can work with them, how you can create value for them so they see it would be best for everyone if your call was put through.
Effectively, you're trying to sell to the gatekeeper as well as the decision-maker, so plan what you will say if this person acting as a buffer is encountered.
8) Decide on your value proposition and stick to it
No-one will buy your products or agree to a meeting with you simply because you contacted them.
You have to convince decision-makers of the value of the appointment or why your services should at least get the prospect's once-over.
Your value proposition is how their company will benefit from the future use of your services.
It will be different for every customer, so you have to understand how your company can help their company to prosper.
If you're selling an appointment, make sure your value proposition is based around why the decision-maker should spend their time meeting with you.
9) Answer the question 'Why should I meet with you?'
Imagine the prospect asks that question during your call. Identify an answer that doesn't mention your product or service.
Plan something that instead highlights your ability to improve their productivity, or increase their profits, or decrease their downtime, or whatever results your services actually achieve for clients.
Your prospect doesn't actually wish to be bombarded with details of your products, so plan for a discussion that talks about results and future solutions.
10) Have a secondary objective in mind
If you're calling to set an appointment, and you don't achieve that, have a secondary objective that turns the call into a success anyway.
For example, if your first objective is to make an appointment to visit and you don't achieve that, plan what you could do instead.
You may instead get agreement that they will go onto your newsletter list, or they will agree to receiving details of a new product being launch in three months, or they will accept another call in six months when the economy has changed.
Having a secondary objective for the call means you can count it a success even if you don't get your primary objective.
That gives you a chance to build the relationship with this prospect over a time period, and allows you to maintain contact even if 'now' isn't the right time.
These ten ideas should help you gain confidence in making your cold calls into warm leads and increasing your chances of success when you make those initial contacts improving your hit rates, sales velocity and overall closing ratios. Here are 10 Cold Calling Techniques For SDRs.
Happy Selling!
Sean

Sean McPheat
Managing Director