Sales Questions – Pull Out The Problems First
Posted on Have Your Say: Leave a comment?
I'm asked a lot about the value of asking the right sales questions, so much so that I put a free report together on the homepage of the blog on the top 23 sales questions to use with your prospects!
You see, in any sales interaction you need to adopt the PULL rather PUSH mentality.
What I mean by this is that you don't just PUSH benefits down the throat of your prospect. Instead, you pull out the problems and pain from your prospect and then you SOLVE the problem with what you offer.
So when you go into your next sales interaction remember to PULL out the problems and pain by asking effective questions. You need to assume the position of a doctor!
Now a doctor will perform a thorough examination before writing out a prescription and so should you.
And just like a doctor remember this:
"Prescription before diagnosis is malpractice!"
So, in summary: Pull out the problems first and then solve them. Ask questions, listen and make sure you unearth what EXACTLY the issues, problems and pain is before you SOLVE them!
Happy Selling
Sean
Sean McPheat
MTD Sales Blog
Telephone: 0800 849 6732
Have you downloaded my latest report yet? "The Sales Person's Crisis" has been downloaded by over 10,000 sales pros and entrepreneurs. Don't miss this unique report that lifts the lid on modern day selling!
Click on the image below to find out why you're very existence as a sales person is in doubt…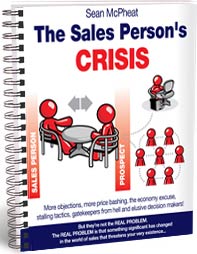 This entry was posted in Questioning Skills and tagged ask the right sales questions, sales questions, sales questions for prospect, sales questions to ask. Bookmark the permalink.